The role of sign bases in maintaining safety is vital. Signs certainly won't serve their purpose if they aren't properly supported. The Manual on Uniform Traffic Control Devices (MUTCD) is the source for all regulations related to the bases and supports used for signs. The manual is the national standard used for all roads open to public travel. MUTCD has specific regulations on sign support based on the material used. Here is a review of those guidelines by material.
Wood
Wood sign bases are an alternative to more expensive steel. The MUTCD guidelines do not identify any specific species for use. Pressure-treated wood is the typical choice due to its ability to stand up to the elements and not rot or decay.
The MUTCD does have size requirements. Posts sizes are specific. They can be 4" by 4" or 6" by 8" in width. These are the only two acceptable widths. If a breakaway sign is needed. The post should be 6" by 8". If so, it must have two 3" holes drilled through it, which should be in a perpendicular direction from passing traffic. The posts must be buried between 30" and 36" deep. The soil condition, wind levels and risk of theft or vandalism are all factors determining the exact depth needed. Two posts to support one sign are okay but only if engineers feel it's warranted.
U-Channel Steel Posts
Hot rolled steel bases are breakaway supports, as long as the weight is less than three pounds per linear foot. The post should be buried 42" underground or less. Concrete should not be used to secure the base. This makes breakaway action prohibitive. When using heavier steel, a stub post is installed at ground level for better breakaway. See U-Channel Posts.
Telespar Square Sign Post
Steel perforated tubes are another sign post option. They meet MUTCD breakaway standards if they are no more than 2.25" in width. Telespar or Unistrut galvanized perforated square post use a minimum 35" ground anchor that is ¼" bigger than the main sign post to slip into. Break away corner bolts are used for break-away purposes. 3/8" Drive rivets secure the sign to the post.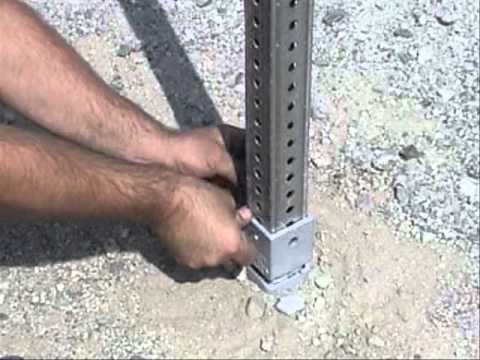 I-Beam Sign Supports
Large road signs require I-beam supports. These provide the most support. However, they are usually not great for breakaway applications. If concrete and steel foundations are poured to support these beams, this can help with breakaway. If a collision occurs then the sign will slide out and away from the base.
Breakaway Sign Posts
Break-away sign post regulations were revised in 2013. The change was due to the fact that rigid objects were dangerously close to roadways, causing hazardous situations if struck by a vehicle. Supports for road signs need a redesign, ensuring easier breakaway. Upon impact, they must break away; otherwise, they pose a huge danger.
These signs need not be huge. Small signs can still be a threat. The MUTC states specifically, in Section 2A-19: "... Ground mounted sign supports shall be breakaway, yielding, or shielded with a longitudinal barrier or crash cushion if within the clear zone."
This stated requirement is applicable to all roads, public or private. Non-breakaway signs had to be replaced to adhere to the new rule. However, it wasn't so easy to inventory and inspect each sign. It certainly became the norm for any new signs posted after the rule change. The changeover focused on roads with a speed of 50 MPH or more.
Temporary/Portable Signs
Portable signs are used when permanent highway safety systems are damaged or destroyed. These signs are meant to be temporary until the appropriate repairs are made. Sign bases that are easy to transport work well. Most temporary signs are rubber based. Rubber based portable sign bases are portable yet heavy.Sign bases and posts will continue to evolve as road conditions and cars change. Sign posts are meant to support important signs that clearly communicate warnings and direction. MUTCD requirements help signage stay consistent throughout the country and allow for safe passage.
Dornbos Signs offers a variety of sign posts. Browse our complete selection now .