Posted by Jeffrey Dornbos on 10th Oct 2016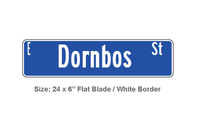 Have you ever noticed a really awesome custom street name sign in a friend's basement or on the back wall of a bar and wondered 'how'd they get that?' Well, we might not know the answer to your specific inquiry, but we do know where you can purchase your own custom street name sign: Dornbos Sign & Safety, Inc.
Dornbos Sign & Safety, Inc. has been in the sign making and distribution business for over 50 years. In addition to offering a wide selection of road signs and installation equipment, Dornbos Sign & Safety, Inc. offers customers the opportunity to design their very own custom street name sign.
To begin creating your custom street name sign today, visit Dornbos' website. If you are stumped on what to put on your street name sign of you are looking to be inspired with a few new ideas, you're in luck! We've come up with a number of ways you can incorporate custom street name signs into your life.
1. Replicate Your Favorite Famous Street Name Signs
If you have a favorite city, hobby, or band, then imitating a famous street name sign might be the perfect street name sign option for you.
For example, if you can never get enough of the Beatles, perhaps you'd enjoy seeing an Abbey Road sign hung up on your bedroom wall. If you're a theater junkie or dream of New York City's bright lights and never ending nights, you might like to see Broadway, Wall Street, or Park Avenue fixed to your garage or basement wall.
Whatever you enjoy, Dornbos Sign & Safety Inc. can help you create the perfect custom street name sign to replicate places dear to you. And if you can't think of any famous street names that hold a place in your heart, perhaps you have a friend or loved one who does…
2. Give a Custom Street Name Sign as a Gift
You can go along with the famous street name sign idea, but there are endless customization options when it comes to making street name signs with Dornbos Sign & Safety, Inc.
If you're looking for a gift for a parent or spouse, you could create a sign saying something like 'Man Cave' or 'Momma's Hideaway'. If the person you have in mind is a sports fan, perhaps you could make a sign with his or her favorite team name or player's name.
3. Customize a Street Name Sign with Your Last Name
Whether you're buying a sign for you or someone else, designing a sign with your last name is always a cool idea. Dornbos Sign & Safety, Inc. offers a multitude of custom street name sign sizes, fonts, and color combinations. Check out everything our store has to offer by visiting our website.
Learn More About Custom Street Name Signs
Start creating your custom street name sign with Dornbos Sign & Safety, Inc. by visiting our website today. Reach out to our team with any questions or comments by calling or fill out our online contact form .