Posted by Jeffrey Dornbos on 5th Jul 2016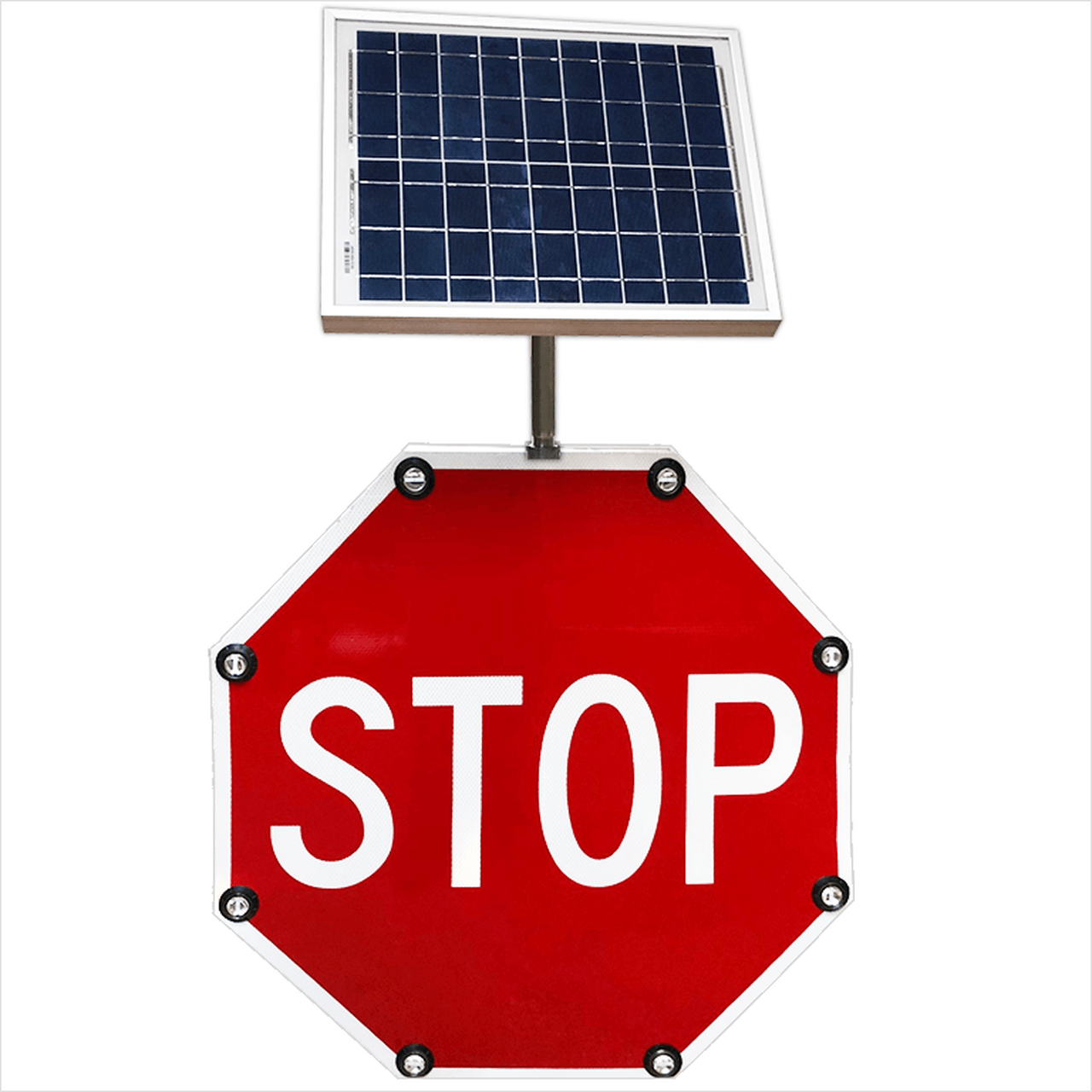 They're everywhere! Solar panels. Look around: you can spot solar panels on the roofs of buildings, on the top of garbage cans or in the yards of homes in your community. Perhaps you've even spotted a solar powered crosswalk or stop sign around the neighborhood.
No matter where you are in the world, road safety is important and can always be improved. Whatever can happen to increase visibility of road signs is an accomplishment. That's why Dornbos Sign and Safety Inc. is proud to produce solar powered LED crosswalk and stop signs.
Equipped with flashing lights that flash 60 to 80 times per minute, our solar powered LED crosswalk and stop signs catch the attention of drivers more effectively than the typical street sign. Moreover, they are cost-efficient and environmentally friendly.
Great for the Environment and Cost-Friendly
Electricity is expensive. Laying the electrical cables necessary to produce electricity is also pretty pricey. With solar powered signs, the expense of electricity is eliminated one hundred percent. They are completely functional on their own, with a little help from the Sun.
Solar power is created from the Sun's energy. As the Sun's light hits the solar panel, it is converted into electrical energy that can then be used to sustain devices that electricity normally powers.
A wonderful feature of our solar powered signs is when the road is not busy, neither are our signs. They conserve energy by only working when cars and pedestrians are present. And when they are not "on" they use zero power.
With our solar powered LED stop signs and crosswalk signs, there are no electrical cables required to support them. All you have to do is take them where they need to go, attach them to a post for stability, and voila: safety!
Making Streets and Communities Safer
Street signs do not have to be lit up; however, light up signs are a great addition to any community, because the lights increase the sign's visibility and, in turn, make drivers more aware of them.
Traffic signs are there for a reason. Crosswalks are generally located in busy intersections and, whatever the situation or location, crossing the road is always dangerous. Crosswalks' purpose is to bring pedestrians together in one spot so drivers on the road can spot them easier.
We all know how stop signs can be a nuisance, but without them, where would we be? There is no doubt that stop signs increase the safety of our roads incredibly. They come in handy when there are sidewalks and driveways in proximity to the road, as well as when cars are about to pull out onto busy streets. They are especially useful in residential areas and locations where there are a lot of people present.
The lights on our solar powered LED stop signs flash red to increase visibility, while our pedestrian sign flashes white. LED lights extend the range of visibility of the sign they are on, and are great all weather conditions.
Quality Products
If you are looking to buy a street sign, it is important to buy a quality sign that will withstand tough weather and road conditions, and last for years.
All of our signs are made using .080 high-grade aluminum and a reflective sheet to increase visibility. The life expectancy of the LED lights is 100,000 hours or more. Each sign that we produce features a key on/off switch and the battery and lights can be easily replaced.
Contact Dornbos Sign and Safety Inc. Today!
We have been making quality signs for over 60 years and we are proud to say that all of our products are made in the USA and MUTCB compliant. If you are interested in purchasing a solar powered LED crosswalk or stop sign, give us a call at 800-922-0029 or contact us via our online contact form.