Posted by Jeffrey Dornbos on 21st Jun 2016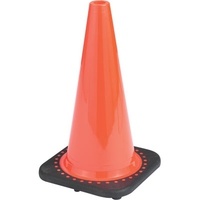 Drive by any large school across the country in the morning or afternoon and you'll likely be greeted with a traffic nightmare. Parents rushing to pick up their kids, teenagers and teachers jumping into their cars trying to jet out of school as quickly as possible.
This combination can be extremely dangerous to parents, teachers and students alike. At Dornbos Sign & Safety, Inc. we've been manufacturing sign and safety cones for over 50 years, and offer a wide range of products that can make traffic control around schools much more manageable.
Uses for Safety Cones for Traffic Control Around Schools
There are a number of ways that schools can use safety cones to help with traffic control around schools. A few of the most common ways include:
Control Flow of Traffic
This is typically the most common way that traffic cones are used. Cones are easily recognizable and offer an immediate warning about any road obstructions, as well as to designate proper traffic lanes. Some safety cones even feature high visibility as well as reflective features that make them useful at night.
Another way that schools control traffic using safety cones is by creating additional lanes to improve the flow of traffic. Schools can have multiple lanes going into and out of school in the mornings and afternoon to allow for more students and parents to enter and exit the school to further mitigate traffic issues.
Identify Restricted Areas
Does your school need to restrict access to certain areas? If so, using safety cones is a great way to create proper boundaries. Due to safety cones being portable, you can easily use them when needed and place them in storage when you are finished.
Warn of Dangerous or Hazardous Situations
Safety cones also allow schools to identify dangerous or hazardous situations. For example, if your school has a large pothole, or workers are repairing a water line, safety cones offer a great way to warn others about these potential hazards.
Display Safety Messages
Safety cones also work well to provide safety messages and warnings. Turn your safety cones into a sign post by affixing a sign on top of your cone to make your sign more noticeable and visible to students, teachers, parents and visitors to your school.
Dornbos' Traffic Safety Products
Dornbos Sign & Safety, Inc. offers a wide variety of safety cones to help with traffic control around your school. A few of our most popular safety cone products include:
Reach out to Dornbos Sign & Safety to Learn More
If you're interested in safety cones to help with traffic control at your school, simply pick up the phone and give the safety sign experts at Dornbos a call today. With more than 50 years of experience helping schools around the country keep their students and faculty safe, we're ready to assist you in any way possible. Call us today at 800-922-0029, or fill out our online contact form and we'll follow up with you shortly.