Posted by Jeffrey Dornbos on 8th Jan 2016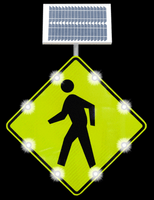 When someone is crossing a road or jogging on a sidewalk, pedestrians need to be aware of their surroundings, whether or not they're on a busy street. Having the right street signs in place can actually greatly help prevent an accident from taking place. The following are some of the best signs that can be used to give both pedestrians and drivers a peace of mind.
STOP Signs
STOP signs are among the most important signs necessary to caution drivers of pedestrians. These highly effective signs might all come in a red octagonal façade, but they can differ in their varying mounting options. Here are some STOP sign alternatives and bases that you can find at Dornbos Sign and Safety:
STOP signs can be used in several locations pedestrians frequent. Whether the signs are held by a hand or by a base, they can be utilized in schools, event locations, and other places people may be crossing regularly.
Crosswalk Signs with Bases
Some areas are so hectic, motorists and passersby often forget that there's a crosswalk where numerous pedestrians regularly travel on. That's where the "State Law Sign With Base" from Dornbos Sign and Safety comes in.
This particular sign comes with 3M Fluorescent Yellow-Green Diamond Grade sheeting with a 72-pound RubberForm Recycled base. Its bright color allows it to be spotted from a distance and the strong base keeps it sturdily in place. The Made in America sign displays an image of a STOP sign and message to protect pedestrians.
Dornbos Sign and Safety also carries the Dornbos Solar Pedestrian Crossing Sign. This particular sign features 0.80 High Grade Aluminum Type XI Reflective Sheeting and 8 G2 LED lighting around the sign's parameters. The LED lights have a life expectancy of over 100,000 hours.
Quality Safety Products
Sometimes, larger events require more than just the placement of STOP signs or crosswalk signs. During marathons and concerts, for instance, the use of traffic cones and barricades are often used to serve as a barrier between walking pedestrians and passing vehicles.
You can find a myriad of these types of products at Dornbos Sign and Safety. We carry high quality traffic cones with protective sheeting, and we have quality barricades available in Type II, or III kits. For the latter, you can choose from Engineer Grade or High Intensity Prismatic Reflective Sheeting.
Our different barricades can be easily stacked and transported. They're simple to handle and maintain and can be used in wide range of locations.
Contact Dornbos Sign and Safety
You'll not only find the aforementioned signs and products at Dornbos Sign and Safety. Our large selection of safety products is well equipped with all the tools necessary to keep any area safe.
For more information on our assortment of superior products, contact Dornbos Sign and Safety today.