Posted by Jeffrey Dornbos on 26th May 2016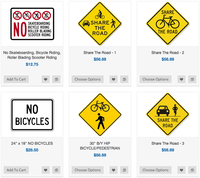 When bicyclists hit the road, they should feel assured that motorists and passersby are nearing the biking area with caution. Having the appropriate traffic signs installed is necessary for keeping bicyclists and their surroundings secure.
At Dornbos Sign and Safety, we carry numerous types of bicycle traffic signs that are easily visible. All of our signs are made with premium materials to assure a long lasting build that won't be phased by different climate conditions.
Tier One Assortment
Dornbos Sign and Safety has been in the safety sign manufacturing industry for quite some time. Our experience has allowed us to gain the expertise necessary for offering customers the best signs on the market.
Over the years, we've partnered with some of the most well known brands to ensure various alternatives that can suit a range of preferences. Our entire inventory is characterized by exceptional safety signs and products—many of which even meet state laws governing their use.
In addition to boasting a robust composition, our safety signs come with 3M reflective sheeting, which simplifies visibility during all types of weather conditions as well as during darker hours. We offer different types of reflective sheeting grades to cater to your needs.
In addition to using these signs to caution motorists of incoming cyclists, some of these signs warn bicyclists of areas by which they shouldn't pass. Similarly, some bicycle traffic signs can be in the form of parking signs.
The following are some of our most popular bicycle traffic signs:
Made In America 30" B/Y HIP Bicycle/Pedestrian
No Skateboarding, Bicycle Riding, Roller Blading, Scooter Riding
Share The Road (available in 3 different design schemes)
Made In America 24" x 18" No Bicycles
Made In America 30" x 18" Pedestrians And Bicycles Prohibited
Made In America 12" x 18" HIP Parking For Bicycles And Motorcycles Only
As you can see, some of these signs can simultaneously be used for bicyclists and pedestrians or bicyclists and motorcyclists. They're easy to install, too.
Meeting All of Your Traffic Sign Needs and More
In addition to selling bicycle traffic signs, Dornbos Sign and Safety carries different mounting accessories and products that can further simplify the installation process. Whether you're looking for warning signs or parking signs and safety cones, we have all the products you need to ensure a secure environment regardless of your setting.
Before being delivered to our customers, all of our signs must undergo our quality control processes and meet our standards. Each order is delivered in a timely manner and with the utmost care. You'll not only find bicycle traffic signs and safety products that range a suite of preferences at Dornbos Sign and Safety; you'll also have the chance to choose the signs that best suit your budget.
At Dornbos Sign and Safety, we pride ourselves in being perfectionists and never cutting corners when it comes to providing our clients with the best quality signs in the industry. To learn more our bicycle traffic signs and products, contact Dornbos Sign and Safety and one of our knowledgeable team members will be happy to assist you.