Posted by Jeffrey Dornbos on 8th Dec 2015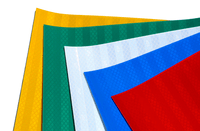 From road signs to regulatory signs, safety is a definite priority. One way to ascertain that these signs are as visible as they should be is by making sure they are protected with reflective sheeting.
Reflective sheeting can be used on commercial and non-critical traffic sign applications. In early 2008, a ruling regarding minimum reflectivity was deemed effective. With a few exceptions, all signs should be covered with High Intensity Prismatic Sheeting.
The Use of Reflective Sheeting
Reflective sheeting provides durability and enhances safety during darker hours. Driving at night poses a high risk on many drivers, especially those driving on few hours of sleep or with bad vision. This sheeting is namely useful on rural roads, which are categorized to be the most dangerous roads in the United States.
Since there's a generally smaller volume of cars traveling on rural roads, the speed at which they travel is higher. Combined with the fact that travel directions are usually less visible, drivers are less likely to see road signs while driving at high speeds.
When signs are equipped with protective sheeting, they serve as an enhancement to highway signage to help drivers spot the signs from a distance and ultimately, avoid accidents. There are different legal shades of reflective sheeting that are designed for use in particular environments.
Fluorescent orange sheeting is mainly used on work zone signs. This sheeting provides a high visual impact for all driving conditions including daytime and later hours, as well as overcast days. Traffic control signs and delineators namely use a diamond grade reflective sheeting to provide visibility for both short to medium distances.
Why You Should Coat Your Signs
It's also very important that the reflective sheeting used on these signs are manufactured with high quality materials, as it will help prolong the signs' lifespan. If a sign's sheeting starts to disintegrate, this will put drivers and their surroundings at risk.
If you use low quality sheeting, it will most likely cost you more in the future to replace the sheeting or even the sign itself. That's because external factors such as extreme weather conditions, can destruct a sign's composition over time.
At Dornbos Sign and Safety, we use 3M Reflective Sheeting products to assure that our customers get the best quality around and at an affordable price. You can place a bulk order with no minimum order required. That's right, you can just order one roll if that's all you need. If we have partial rolls in stock, you can even purchase those.
Some of the sheeting you can choose from at Dornbos Sign and Safety include:
Contact Dornbos Sign and Safety Inc.
Dornbos is located in in Charlotte, MI.Our staff is extremely knowledgeable and always ready to help.We treat our customers like partners and believe in maintaining long-term relationships.
If you're interested in placing an order for reflective sign sheeting, or would like more information, call or email us today and we'll be more than happy to assist you.