Posted by Jeffrey Dornbos on 4th Sep 2016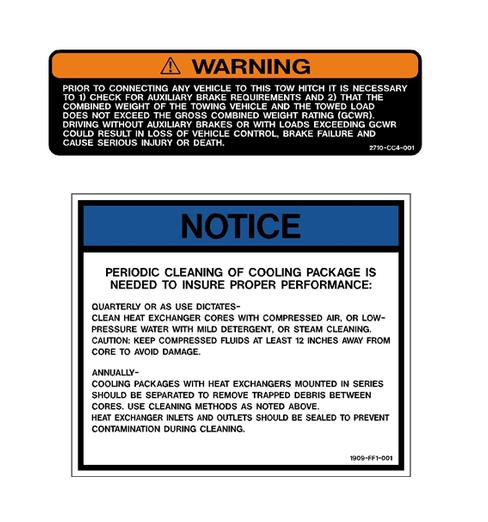 Choosing the Right Industrial Equipment Safety Decals
When people see a sign or sticker that says "Warning Hot Surface" or "Caution Sharp Edges," generally they take a moment to pause and look closer at the environment in which they stand. The purpose of safety decals is to get people to STOP and assess potential dangers surrounding them before completing actions.
Safety decals typically include vital information regarding equipment or vehicles, such as: how to properly and safely operate machinery and specific areas to avoid.
Safety Decals are Everywhere
Wherever you go, you can probably spot a number of safety decals pretty easily. For example, right now—if you're at home or at your workplace take a look at any nearby appliance. You will undoubtedly find a number of safety decals warning you about hot air or hot surfaces possibly present, and the decals probably advise you to keep electrical cords away from water.
People are safer when they're fully informed about potential dangers and are given opportunities to act accordingly.
Different Types of Safety Decals
Any image or message can be turned into a safety decal; however, safety decals specifically meant to inform people of danger, caution, or safety instruction should abide by particular guidelines.
For example, danger signs indicate immediate danger and should inform nearby persons of special precautions required. Caution signs are meant to warn people against potential hazards and alert them against unsafe practices. Safety Instruction signs give general instructions of how to safely operate machinery or equipment.
Occupational Safety and Health Act (OSHA) Regulations for Safety Decals
Companies and organizations that utilize industrial equipment and machinery are obligated to place safety decals in specific locations. According to the OSHA, safety decals must remain in the places they are required to be and must be legible at all times.
Order Custom-Made Safety Decals From Dornbos Sign & Safety, Inc.
Dornbos Sign & Safety, Inc. can make you all of the safety decals you want and need. Our company uses premium vinyl and 3M protective sheeting to create high quality safety decals for every industry and purpose. Safety decals have adhesive backs, which allow them to be placed in any necessary location. Customers can choose to have reflective material if high-visibility is desired.
Whatever message you need to get across, Dornbos Sign & Safety, Inc. can help make it happen. All we need from the customer is an image—if applicable—and the message. Contact Dornbos Sign & Safety, Inc. today to start the process of making your custom-made safety decals!
Reach Out to Dornbos Sign & Safety, Inc. For All Your Safety Decal Needs
Dornbos Sign & Safety, Inc. has been in the sign-making business for over 50 years. Visit our website today to view examples of safety decals we've made in the past. We can use stock images to make danger, caution, and safety instruction safety decals. Call us at 800-922-0029 or fill out our online contact form to further discuss what our team can do for you.