Posted by Jeffrey Dornbos on 30th Mar 2016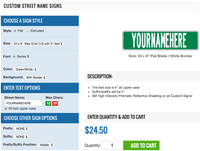 Customizable Street Name Signs as a Gift
If you're looking for the perfect gift to give to someone special who has reached a milestone in his or her life, why not go for a custom street name sign? At Dornbos Sign and Safety, you'll find numerous signs of varying shapes and sizes to customize into one that will be noticed by any driver.
The Best Custom Road Signs in the Market
One of the best parts about ordering a customized road sign is that it has originality and personalization written all over it. At Dornbos Sign and Safety, you can choose between designing a sign with a flat blade and white border or one with an extruded blade.
The name will appear in a 4-inch text size, and the prefix and suffix text will be displayed in a 2-inch size. You can choose between different text color combinations to suit the setting in which the sign(s) will be placed.
At Dornbos Sign and Safety, you can opt for one of the following color combos:
Blue/White
Red/White
Green/White
White/Black
Brown/White
Black/White
With a 17-character limit, you can choose to have the entire text appear in capitalized or lowercase letters, upon your preference. Additionally, further customize the appearance of your sign order by selecting to have it/them with or without a border.
Adding a prefix and/or suffix is optional. If you decide to include either or both, you can choose a prefix ranging from E to SW and Mt, and any suffix including Ave, Hwy, St, and many more! You can even select the location in which you'd like the prefix and suffix to appear (top, middle, or bottom).
The Gift that Keeps on Giving
Getting a customizable street name sign from Dornbos Sign and Safety will give your recipient the chance to enjoy their gift for years to come. We only use the highest quality materials in the production of our signs to ensure a durable build that can withstand all sorts of weather conditions.
Whether your gift recipient lives in an area where winters are strong or sunlight is abundant, our quality signs can stand strong in any environment. Their rust-free nature goes alongside their ability to resist fading. This is not only due to the quality composition of the signs, but also thanks to the protective layer that shields them.
All of our custom street name signs are covered with 3M High Intensity Prismatic Reflective Sheeting, which both guards the signs and allows drivers to see them from afar. During times of low visibility, such as during darker hours or areas with low lighting, the reflective sheeting helps motorists spot the signs.
Contact Dornbos Sign and Safety
Dornbos Sign and Safety has been in the sign manufacturing industry for over 60 years. We pride ourselves in delivering quality products in a timely manner and at competitive prices, making sure our valued customers are completely satisfied with their orders.
If you're interested in learning more about how to create a customized street name sign at Dornbos Sign and Safety, contact us today for more information. One of our knowledgeable team members will be more than happy to assist you.