Posted by Jeffrey Dornbos on 3rd May 2016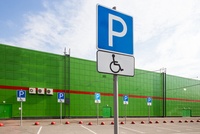 Having the proper parking signs in place prevents mayhem in parking areas. The law requires some signs, like those designed to reserve spaces for the disabled, to be installed in most areas. In fact, the United States Department of Justice recently passed new guidelines under the Americans With Disabilities Act (ADA).
These new regulations include provisions that state a minimum number of accessible parking spots necessary for a particular number of parking spaces in a lot. For example, if your parking garage contains 26-50 parking spaces, two of which must be designated as accessible parking spots.
Delivering Quality Across the Map
Every sign should be easily visible from a distance and during all sorts of weather conditions. The disabled parking signs at Dornbos Sign and Safety are perfect for use even during darker hours and times of overcast, thanks to the reflective sheeting that meets the specifications set by the Department of Transportation.
You can choose from various types of reflective sheeting, including Engineer Grade Prismatic, High Intensity Prismatic, and Diamond Grade. Whether they're labeled in indoor parking garages, on the roadside, or in an outdoor parking lot, accessible parking spaces are an absolute necessity.
Since we only carry signs of the highest quality at Dornbos Sign and Safety, you can expect them to last for at least ten years! All of our signs are made right here in the United States. We're always sure to deliver orders in a timely manner after they undergo our quality control processes.
A Selection for Every Setting
Dornbos Sign and Safety works with several renowned brands to assure a quality selection. Our Made In America handicap parking signs come in different prints, while maintaining similar features of quality:
Each of the aforementioned signs designates a certain area of parking in compliance with the ADA. Along with offering signs from several brands, we also have our very own line of Dornbos Sign and Safety disabled parking signs made of rust-free aluminum for a durable build. Here are a few of our Dornbos signs:
ISA Handicap Parking Symbol
New ISA Handicap Parking Symbol Parking Sign with Double Arrow
New ISA Handicap Parking Symbol Parking Sign with Left Arrow
New ISA Handicap Parking Symbol Parking Sign with Right Arrow
As part of the regulations set out by the US DOJ, some disabled parking spaces must be van accessible. Stay on par with the law with the Reserved Parking – Van Accessible sign from Dornbos Sign and Safety.
Contact Dornbos Sign and Safety Today
Dornbos Sign and Safety has been distributing disabled parking signs to an array of clients for years. We take pride in delivering products of the utmost quality. To learn more about the selection of accessible parking signs at Dornbos Sign and Safety, give us a call today. One of our knowledgeable team members will be more than happy to assist you.