Often referred to as the bible for traffic signs, the MUTCD – Manual of Uniform Traffic Control Devices is published by the Federal Highway Administration. The FHWA supports State and local road agencies with maintenance of our countries roadways in ways such as design, construction of our highway system.
The MUCD is a series of standards that are required for all traffic control devices i.e. anything that goes along our roadways that help guide and protect everyone who uses our Federal transportation system.
Traffic signs play a huge roll in this. You may not pay attention to every sign you pass on your journey across American roads, but each traffic signs is well thought out for what size the sign needs to be along with sign posts that support it and what color and grade of reflective material needs to be used to give motorist a consistent system of signs that are easy to see, read and use.
Traffic control signs are categorized by different groups of signs whose purpose is to provide consistent information to drivers for everything from what lane to use, how fast can you drive, where the roadway is taking you as well as what roads to avoid during construction of our highways.
Regulatory Signs - True to their name, regulatory signs regulate behavior. They tell you what you can and can't do. Broadly, they give you these instructions for driving and for being in some public areas. For instance, when driving, one iconic octagonal regulatory sign alerts you to STOP at intersections. Another regulatory sign warns that if you park in a certain area, your vehicle may be towed—the "Tow Away Zone" plaque.
See "Regulatory Signs" below.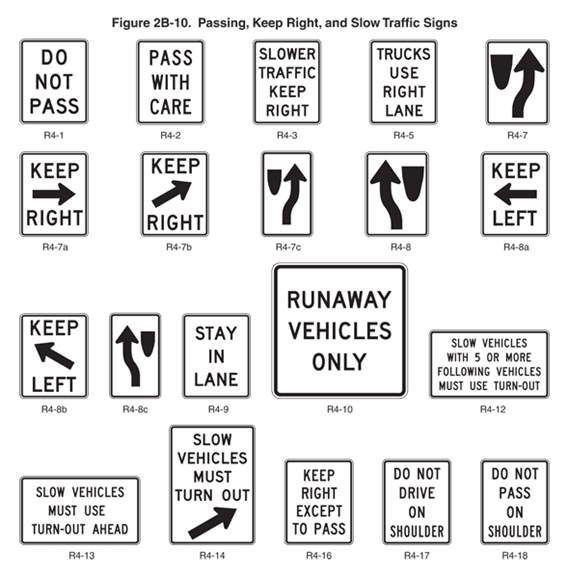 Warning Signs - Warning signs call attention to unexpected conditions on or adjacent to a highway or street and to situations that might not be readily apparent to road users. Warning signs alert road users to conditions that might call for a reduction of speed or an action in the interest of safety and efficient traffic operations.