Posted by Jeffrey Dornbos on 21st Jan 2016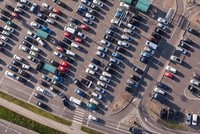 There are those commercial parking lots that experience regular daily "rush hours," while other commercial parking lots experience busy seasons. During any given hour, but especially during busier times, drivers can quickly become frustrated and confused if your commercial parking lot is not designed with efficiency and clarity in mind.
The last thing you'll want as a business owner is to have your guests and employees fighting a battle in the parking lot before and after they enter your business. Don't let your company lose business to something that can be corrected very easily using the proper parking signs for commercial parking lots.
Helpful Commercial Parking Lot Signs
The exact type of parking lot signs that will be helpful in your commercial parking lot will depend on the parking lot layout and the type of business and traffic your commercial parking lot caters to. Dornbos Sign & Safety can help you determine exactly which signs will work best for your commercial parking lot in order to keep drivers happy. Standard types of parking lot signs include:
Parking (including directional arrow)
Reserved Parking Signs (handicap parking, security guard parking, staff parking, etc)
No Parking (with directional arrows)
No Parking Any Time / Tow-Away Zone (with directional arrows)
Designated Directional And Parking Signs
Some businesses find it helpful to direct their visitors in the parking lot. Medical facilities find this to be true as they may have different parking areas for employees, patients, valet, and visitors, EMS drivers, and delivery trucks to use. Many drivers don't frequent commercial parking lots such as these and will greatly appreciate being directed by signs that are easy to understand.
Remember to Keep It Simple
Because drivers are already engaged in concentrating on the road and other vehicles, it is best not to overwhelm drivers with too many parking lot signs or signs that are cluttered. The majority of parking lot signs are quite simple. Consider keeping a reasonable number of signs for driver safety and simplicity sake.
Custom Commercial Parking Lot Signs
If you find that your company could use something other than the standard parking lot signs, Dornbos Sign & Safety produces custom commercial parking lot signs that are made with the same premium materials as those used in all of our signs.
Our regulatory signs are made with 3M High Intensity Prismatic Reflective materials and are built to last and not fade for at least 10 years. Our signs are ideal in commercial parking lots where you would want your signs to be highly visible at night or when lighting is limited, and during extreme weather conditions.
Need Help with Your Commercial Parking Lot Signs?
Because each commercial parking lot is unique, Dornbos Sign & Safety will work closely with you to determine exactly what signs would work best in your parking lot. The goal is to keep a steady flow of traffic with drivers moving in the right direction, and for drivers to have no doubt as to where they can park.
Find out why commercial business owners work with Dornbos Sign & Safety as repeat customers. Call us today at 1-800-922-0029 or contact us online to learn more about improving your commercial parking lot with signs.