Posted by Jeffrey Dornbos on 15th Aug 2016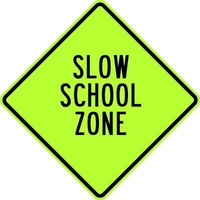 In areas where children and students are present, safety for everyone is the highest priority. Unfortunately, today is a time when people are continuously surrounded by distraction. Whether it is a smartphone receiving alerts or music blaring out of a car radio—it can be hard to avoid the commotion going on in a vehicle while driving.
But when you are in a school zone, the chance of a casualty occurring increases immensely. Why? There is slowed traffic, cars stopping and people out of their vehicles—just to name a few.
That is why it so important for school zones to be clearly marked with visible and readable signage. Drivers need to be warned to slow down and keep their eyes open for pedestrians, other vehicles and bicyclists.
Dornbos Sign & Safety, Inc. sells a wide selection of high quality school signs ideal for every school zone in America. Read on to learn more about our highly visible school zone signs.
Signage Necessary in School zones
Every school environment is different, just as every individual person is. But in many ways kids are all the same, especially at school: they're excited to see their friends and they don't always pay attention to their surroundings. So what does this mean? It means that drivers should take responsibility for maintaining order and safety in school zones. So if you are driving through a school zone, put your anger, impatience and any possible distraction away.
Schools usually have school zone plans for the streets near to them. Some are more advanced than others. Fortunately, Dornbos Sign & Safety, Inc. has every sign to fulfill the needs of each school zone plan. Our collection includes:
School Bus Stop Ahead/School Bus Turn Ahead/Watch for School Bus Signs
Fluorescent Yellow School Bus Stop Ahead Signs
When a school zone is designated under state or local statute, certain signs must be installed at specific areas near and around the school. For example, a school zone sign must be placed at the beginning points of a school zone to indicate that it is a designated school zone. The best way to ensure traffic control in school zones is to use uniform signage within every school zone.
The Importance of Visibility
The first step towards achieving orderly traffic near schools is to install signage that directs drivers and pedestrians in the area of where to go and what to do/not do. If signs aren't present, you can't really expect people to follow "the rules". When purchasing signs, it is important that they are:
A. Visible
B. Readable
C. Understandable
All of the signs that Dornbos Sign & Safety, Inc. supplies are equipped with reflective sheeting . We offer Engineer Grade, High-Intensity Prismatic Grade and Diamond Grade. Reflective sheeting makes it easier for drivers to spot signs in the daytime and during the night.
Take a Look at Our Selection Today
Whatever school zone sign you're searching for, check out all of the options we supply by visiting our website. All of our signs meet MUTCD standards, are made from top quality materials and are designed to last for years. Contact us with any questions by calling 800-922-0029 or fill out our online contact form .