Posted by Jeffrey Dornbos on 16th Jun 2016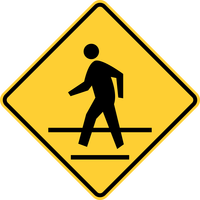 With the various types of safety signs you can find everywhere from residential to commercial settings, pedestrian crossing signs are among the most essential. Whether they're placed near a parking lot or garage or in front of a school, these signs are imperative for keeping pedestrians safe.
In order to be visible in all sorts of weather conditions and during different hours of the day, these signs must feature the right level of brightness. That's why they usually take on a fluorescent yellow green reflectivity. At Dornbos Sign and Safety, you'll find different types of quality pedestrian crosswalk signs as well as mounting tools and accessories.
Abiding by State Law
Ensuring pedestrians are safe from incoming traffic is actually a legal regulation. When signs are in place, pedestrians can see where they should walk. The use of these safety signs has grown in popularity over the years to decrease the rates of accidents and fatalities by cautioning incoming motorists of pedestrians ahead of time, as well.
The United States Department of Transportation has been working hard on addressing new initiatives, using various tools and modes of research to highlight the best strategies for promoting pedestrian safety. Studies have actually shown that the placement of these signs on crosswalks has changed the behavior of motorists.
Signs Created to Last
At Dornbos Sign and Safety, we've partnered with several renowned brands to ensure a quality selection of safety signs and products for our customers. These signs take on various shapes and sizes as well as designs that can be placed on the ground or mounted on a sign post or wall.
All of these signs are made from high quality materials that can withstand external elements, making for a durable composition. You can even request to have a "Local Law" text displayed on some sign options. The following are some of the most popular pedestrian crosswalk signs available at Dornbos Sign and Safety:
Dicke Safety Products In-Street Pedestrian Crosswalk Sign
3M Reflective Sheeting Pedestrian Crossing FYG-DG
Made In America State Law Sign with Base
Dornbos Sign and Safety Pedestrian Crosswalk Sign with Base & Bag
Dornbos Sign and Safety Omni-Ped Crosswalk Sign
Dornbos Sign and Safety Blinking LED Pedestrian Crossing Sign
All of our signs come with highly reflective sheeting grades to be spotted anywhere. The sheeting also serves as a protective layer against scratches and other impacts. Our blinking LED Pedestrian Crossing Sign is a great example of how the pedestrian crossing signs at Dornbos can alert motorists during different hours of the day, as well as diverse weather conditions.
Each sign comes with a robust build to sturdily stand in place. Whether the signs are mounted on a steel post from Dornbos Sign and Safety, or they come with a maneuverable rubber base, each one can be installed and transported with ease to be placed in their respective location.
Contact Dornbos for Your Pedestrian Crosswalk Signs
To learn more about how pedestrian crossing signs help keep an environment safe, contact Dornbos Sign and Safety. We'll be happy to provide you with additional information about our products and help you place an order.