Posted by Jeffrey Dornbos on 12th Apr 2016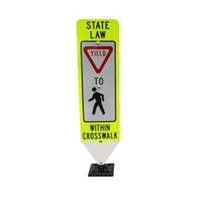 If parking lots and streets did not display the proper signage, chaos would likely be the consequence. While the obvious use of street and parking signs is to direct traffic and alert drivers and pedestrians, making the streets and parking areas safer with signs can also help reduce your liability of injuries from accidents that occur on your property. If you're interested in new street signs and parking signs for your parking lot and streets, Dornbos Sign & Safety offers a complete selection of the highest quality signs in the industry.
Safety Signs in Your Parking Lots
To help eliminate confusion and any hazards in your property's parking lot, consider the areas in your parking lot that would benefit from the use of parking lot signs. Take a good look at your parking lot to get an idea of what types of parking lot signs would be helpful to have in certain areas.
You'll want to be sure that you've taken account of areas or potential situations that could use parking signage before an accident actually occurs. To help you determine exactly which signs can help you reduce or prevent accidents to lower your liability, take a look at the wide variety of parking signs that Dornbos Sign & Safety offers.
See if you can determine which signs would work best to direct traffic in your parking lot, alert drivers and pedestrians of hazards, designate specific parking spaces as reserved, and otherwise maintain a safe area for both drivers and pedestrians.
Street Parking Signs to Lower Your Liability
Using proper street parking signs to reduce the risk of accidents will surely help lower your liability from accidents. You may think that parking signs for street parking are relatively straightforward, and they are. However, for street parking signs, be sure to consider if other warning signs might be useful. Some examples of street parking signs that you may find helpful are:
No Parking Except On Shoulder
No Stopping On Shoulder
No Parking At Any Time (With Directional Arrows)
Three Grades of Reflectivity for Your Street And Parking Signs
Not only is proper signage important, but the visibility of your street and parking signs is key to promoting safety and keeping liability down. To offer the best in safety, your signs must be visible during rough weather and at night. We offer 3 grades of reflectivity for our street and parking signs:
As always, our friendly and experienced customer service team is ready to assist you in choosing the proper reflectivity that will work best for your specific parking situation.
Street and Parking Signs Made Easy
At Dornbos Sign & Safety, we make selecting and ordering street signs easy. Contact us today to get started on placing your order.