Posted by Jeffrey Dornbos on 18th Oct 2016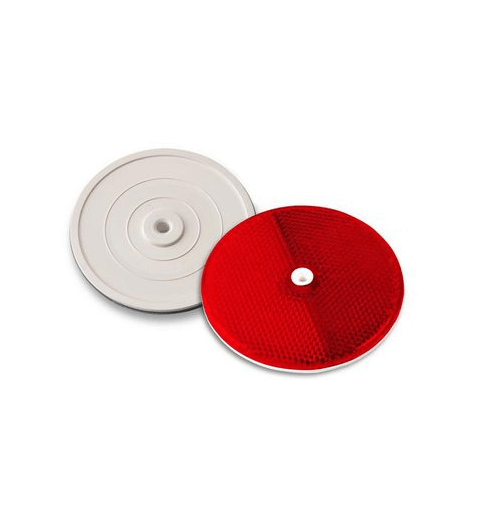 How to Protect Your Mailbox from Being Hit By Cars (post reflectors, etc.)
Oftentimes it seems mailboxes just aren't meant to stay where they belong. Mailboxes are known to frequently plummet from posts because passing cars regularly bump into them. Snowplows frequently hit mailboxes in cold-weather states when giant mountains of snow line the streets. And it has become a well-known pastime for bored teenagers to sit in the back of pickup trucks and wield baseball bats at unsuspecting mailbox victims.
There are many precautions homeowners can take to prevent mailboxes from getting demolished—or to just prevent them from being accidentally hit in the first place. In Maine, for example, many mailboxes are hung from chains so if they are ever bumped by a passing snowplow, they simply swing back into place. The most common precaution, however, is to install post reflectors.
Round Reflectors for Sign Posts from Dornbos Sign & Safety, Inc.
Dornbos Sign & Safety, Inc. has supplied signs and equipment for America's roadways for over 50 years. Our collection of high quality and long lasting merchandise includes various 3 ¼-inch round reflectors with aluminum backs, which are perfect for making mailboxes visible to passing vehicle drivers.
Made with 3M High Intensity Prismatic Sheeting, round reflectors can be seen by passing cars from up to 500 feet away, which givers drivers plenty of time to slow down or stop if necessary to avoid collision.
How Reflectors Work
When the headlights of a passing car hit a reflector positioned on the post of a mailbox, the reflector is designed to take the light and return it back to where it came from. The cover of a reflector is smooth and allows light shining on the reflector to enter into it. Once inside the reflector, the light is exposed to many glass beads or prisms, which cause the light to change direction and hit other surfaces within the reflector. These areas are designed to send the light back in the direction it came.
Larger Sign Post Reflectors by Dornbos Sign & Safety, Inc.
In addition to round reflectors, Dornbos Sign & Safety, Inc. also supplies 4" x 8" signpost reflectors. These are also made with 3M High Intensity Prismatic sheeting, which makes them visible to drivers from up to 500 feet away. They feature rounded corners, 2 holes for mounting, and are made from .080 rust-free aluminum.
Protect Your Mailbox Today with Dornbos Sign & Safety, Inc.
Make your mailbox highly visible to motorists driving at nighttime or in horrendous weather conditions and increase safety for drivers, pedestrians, and your mailbox by purchasing sign post reflectors today. Visit Dornbos Sign & Safety, Inc.'s website to view all of our sign post reflector options.
Customers with questions or comments can contact Dornbos Sign & Safety, Inc. by calling 800-922-0029 or by filling out our online contact form . We look forward to working with you to make America's roadways a safer place to be!