Posted by Jeffrey Dornbos on 21st Oct 2016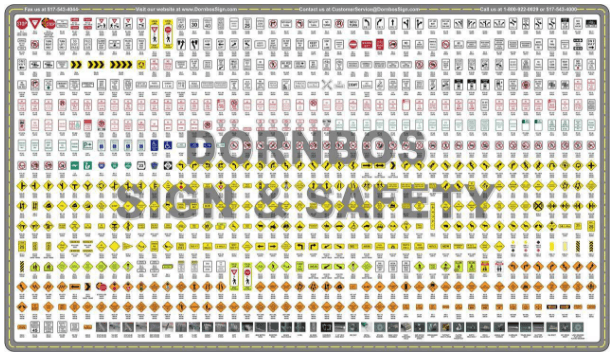 How to Tell if a Street or Road Sign is MUTCD-Compliant
There is not one street or road sign out there that is identical to the next. A sign might look indistinguishable from another, but the specifications of location and surrounding influences of street and road signs are always different. Yet, in order to enhance safety and organization on American roadways, the goal is to create uniformity with all traffic control devices as much as possible. That is why the Manual on Uniform Traffic Control Devices (MUTCD) exists.
The Manual on Uniform Traffic Control Devices and its Purpose
The MUTCD is published by the Federal Highway Administration (FHWA) and has been administered by the FHWA since 1971. It contains all of the national standards for every traffic control device used on roadways in the United States. To keep up with America's ever-changing transportation needs and to incorporate new technologies and materials, the MUTCD is updated periodically. You can print your own copy of the MUTCD by visiting the FHWA website.
Who is Responsible for Making Sure Road Signs are MUTCD-Compliant?
Local highway and individual State agencies choose, install, operate, and maintain all traffic control devices on every public roadway in the U.S.; therefore, it is up to these various agencies to make sure all road signs are in compliance with MUTCD regulations. On private roads, the owner of the road is responsible for these tasks and is responsible for making sure road signs are MUTCD-compliant.
Every time a new MUTCD is released or any national amendments are made to the MUTCD, states are required to meet the new regulations by an established compliance date.
The Basic Requirements for all Traffic Control Devices
The purpose of traffic control devices is to notify road users of regulations and provide warning and guidance. It is important to consider the design, placement, operation, maintenance, and uniformity of all traffic control devices in order to make them as effective as possible.
There are 3 types of road signs: regulatory, warning, and guide. The basic requirements for road signs in America are as follows:
A sign must be legible to those for whom it is intended (adequately sized letters, symbols, or arrows)
A sign must be understandable and allow for enough time to permit an appropriate response
A sign must be highly visible during the day and at nighttime
Check Out the MUTCD to Know if a Sign is MUTCD-Compliant
The MUTCD addresses every imaginable regulation for all traffic control devices. If you want to know what type of sign is required for a particular purpose or you want to see if a sign is in compliance with MUTCD regulations then you will find all that you need to know in the latest edition of the MUTCD .
In the MUTCD you can learn more about regulations regarding sign design, placement, retroreflectivity and illumination, dimensions, and height requirements.
Buy MUTCD-Compliant Signs from Dornbos Sign & Safety, Inc.
Dornbos Sign & Safety, Inc. manufactures and supplies MUTCD-compliant road signs in addition to other traffic control devices and equipment. Check out Dornbos Sign & Safety, Inc.'s website today to view our selection of street and road signs. To contact Dornbos Sign & Safety, Inc. with questions or comments call us at 800-922-0029 or fill out our online contact form.