Posted by Jeffrey Dornbos on 27th Sep 2016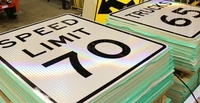 Do you often purchase high quantities of road signs or equipment? Are you constantly placing orders for the same merchandise again and again?
Whether you are the owner of a company requiring the frequent purchase of traffic signs and equipment, or you work for an organization responsible for ordering and installing road signs, Dornbos Sign & Safety, Inc. has just what you're looking for.
Our company manufactures and supplies a vast collection of in-demand road signs, accessories, and equipment. Moreover, Dornbos Sign & Safety, Inc. accepts purchase orders! Purchase orders simplify the processes of ordering, shipping, and receiving for suppliers and buyers alike.
What is a Purchase Order?
A purchase order is a legally binding contract a buyer presents to a supplier. It is a document detailing the products a buyer would like to purchase and the price of each item the buyer is willing to pay. When accepted, a purchase order serves as risk protection for the buyer and the supplier. A customer with a valid purchase order is charged to a credit account set up by the supplier and is approved to pay for the order at a later date. The supplier is able to fulfill an order before receiving payment from the buyer.
What are the Benefits of Purchase Orders?
For buyers, purchase orders make it easier to manage inventory by making it possible to keep track of items ordered and received. Companies can see the amount of stock on its way to their location and when orders are due to arrive. Buyers might reference a purchase order to see what they paid for an entire order or individual items.
Distributors use purchase orders to compare inventory ordered with inventory shipped or on hand. Purchase orders help suppliers save time and money. Instead of looking through various computer systems or piles of paper for order and payment information, suppliers can reference a purchase order for detailed information about specific orders.
Submit a Purchase Order to Dornbos Sign & Safety, Inc.
We understand how useful purchase orders are to our company and the customers we serve. Many of our customers are repeat customers. They are people who are in frequent need of the signs and equipment Dornbos Sign & Safety, Inc. supplies.
Our company does everything we can to make the ordering process simple and quick for Dornbos Sign & Safety, Inc. customers. If you believe a purchase order might benefit your company or organization, reach out to Dornbos Sign & Safety, Inc. today and visit our website to receive a free quote .
Contact Dornbos Sign & Safety, Inc.
Dornbos Sign & Safety, Inc. manufactures and sells a large collection of road signs and equipment. Our store features products made by top brands, including: Made in America, 3M Reflective Sheeting, Dicke Safety Products, and more.
Contact us by calling 800-922-0029 or fill out our online contact form . Our knowledgeable and friendly staff will be happy to assist you with any questions you might have.
MUTCD Traffic Sign Manufacturer for road and street departments.