Posted by Jeffrey Dornbos on 14th Apr 2016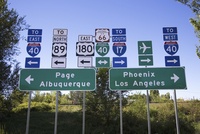 Do you recall the last time you were on the road and came across safety signs that helped guide your drive or walk? You're most likely to see them on a daily basis since these signs have grown into becoming staples in various areas.
At Dornbos Sign and Safety, you can find the best quality signs in the nation. We've been manufacturing traffic control signs for years now and have partnered with the industry's most renowned brands to ensure a varied selection for our customers.
Safety Is Our Expertise
The composition of a sign makes the case for its range in use and of course, its overall lifespan. That's why it's important to focus on choosing signs that are made of materials that can withstand a myriad of weather conditions, while sturdily standing in place.
When a sign maintains its makeup, it can be used for a longer time and ultimately give you more bang for your buck, while protecting everyone on the road. The signs at Dornbos Sign and Safety are shielded with 3M reflective sheeting to be seen from a distance.
The sheeting not only guards a sign from the impact of external elements, but it also makes it visible to drivers and pedestrians during darker hours as well as times of overcast. You can order the reflective sheeting grade of your choice for most of our traffic control signs.
The fact that our signs' quality makes them visible from afar allows drivers to be aware of what to expect on the road ahead of time. Drivers can be prepared for handling any given traffic situation, which largely lowers the risk of an accident.
Keeping Those on the Road Informed
There are different signs that can be used on streets to choose from, spanning from residential areas to construction and commercial zones. Here are some of the signs you can find at Dornbos Sign and Safety to help keep traffic moving properly:
Each of these signs plays a unique role in alerting drivers during different traffic situations. Some of which can be used temporarily, while most others can serve a long-term use.
Contact Dornbos Sign and Safety for Your Traffic Control Signs
At Dornbos Sign and Safety, we manufacture our products here in the United States. All items are delivered after undergoing our quality control processes to ensure that customers are completely satisfied with their order(s). Boasting competitive prices, our traffic control signs are also delivered in a timely manner.
If you have any questions about any of our products or need help with placing an order, call Dornbos Sign and Safety today, and we'll be more than happy to help you.