Posted by Jeffrey Dornbos on 24th May 2016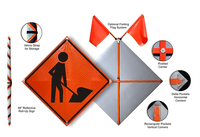 Construction signs are an absolute necessity in any construction zone. Whether they're to be used on a highway, residential neighborhood or shopping center, the use of these signs is integral to maintaining the safety of motorists, pedestrians and construction workers.
Since these signs are usually temporarily used, getting portable alternatives will make all the difference in transporting and storing them with ease. At Dornbos Sign and Safety, you'll find various types of roll-up men working signs for your construction area.
Driven by Quality
Every sign at Dornbos Sign and Safety is constructed using the highest quality materials in the industry for a long lasting composition. Featuring the best reflective materials, all signs are visible from a distance.
The black font efficiently contrasts with the orange background of these signs to be seen even during darker hours and extreme weather conditions. Areas of overcast and competing lights are no match for the high visibility boasted by these quality selections.
You can easily spot the difference in quality with these signs versus that of competitors. Dornbos Sign and Safety has been partnering with the industry's best sign manufacturers, such as Dicke Safety Products and Made In America, among many others, to offer a top-notch selection for customers.
Meeting All of Your Construction Sign Needs and More
No matter how long you plan on installing these signs for, or what region they'll be used in, the large assortment at Dornbos appeals to any passerby. Here are some of our most popular men working signs:
Pavement Width Transition- Left
In addition to these signs, we also carry several practical sign accessory options and cones. Our flexible sign stands are perfect for mounting roll-up signs of varying sizes.
The DF4503 Sign Stand from Dicke Safety Products, for example, allows for mounting a sign of a height of 5 or 7 feet. It comes with 2 stage aluminum masts, as well. This Dynaflex stand is MUTCD and NCHRP-350 compliant. The potent steel torsion spring system stands against wind gusts in a subtle, gliding reaction.
You can choose from various stand styles, which all come with a sturdy build and easy setup nature. Most of these stands can be used on uneven terrains, too. The Made In America Uni Flex and Twin Flex stands are compact options that can be moved from one worksite to another with ease. Along with stands, you can find retractable staffs for signs at Dornbos Sign and Safety.
Call for Your Construction Zone Signs Today
Dornbos Sign and Safety has been in the safety sign business for quite some time now. We pride ourselves in offering a quality variety that can be recognized in any setting. Our products are always delivered in a timely manner. For more information on our portable men working signs or other products, call Dornbos Sign and Safety today.