Posted by Jeffrey Dornbos on 11th Feb 2016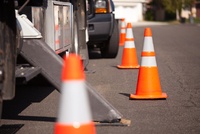 Construction projects are devised with an extensive amount of planning that goes beyond choosing the location of the project and handling the associated legal procedures. Safety procedures are also put into place to assure a secure environment not just for construction workers and their supervisors, but also for drivers and pedestrians.
Along with equipping workers with noticeable uniforms and having the right safety signs installed, safety cones are also necessary for use in many areas. Regardless of where the construction site is located, safety cones are convenient to use and are often included as part of a project's safety plan.
Why Use Safety Cones?
Have you driven by an area of construction before and found that a set of cones was lined up several feet away from the site to gear drivers away from a certain lane? Chances are you've seen this many times, and that's because cones are among the safest tools to use to warn drivers of what's to come ahead—and of course, to prevent an accident from taking place.
Sometimes, a set of cones is used to surround a ditch that's being repaired so that pedestrians and vehicles can avoid it, as well. There are numerous other purposes for using safety cones in construction sites, involving the designation of areas in which passage is permitted for certain people or vehicles.
Attributes of Superior Cones
Cones made of a sturdy and quality arrangement can generally last for a longer period of time. Safety cones are lightweight and easy to transport from one area to another. Those used for temporary traffic control are generally bright orange and some come with reflective wraps to be visible in various conditions, including darker hours and overcast settings.
Thanks to the smooth and flexible composition of higher quality cones, if a vehicle slightly touches it or knocks one down for any reason, neither the vehicle nor its passengers will be affected. Tougher cones that are made for all purposes, on the other hand, are more likely to scratch or even dent a passing vehicle if hit.
Safety cones come in different sizes, too. The standard height of cones used on roadways that have a speed limit that exceeds 45 mph is 28 inches. The same height cones are also namely used as blockades or signs of hazards. Many US states have specific laws governing which cones can be used and where they can be put into place.
The Safety Cones at Dornbos Sign and Safety
Dornbos Sign and Safety has been in the safety sign manufacturing business for over 50 years now. We pride ourselves in delivering the best quality and service to our customers and always make sure to deliver our products in a timely fashion, so you won't have to worry about missing any cones for your upcoming project.
We carry several safety cones from different manufacturers so as to make sure you find exactly what you're looking for. If you're looking for collapsible cone sets, you can find that at Dornbos, too—all at competitive prices.
For more information on our traffic cone selection and other safety products and services, contact Dornbos Sign and Safety today.