Posted by Jeffrey Dornbos on 6th Jan 2016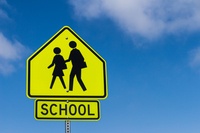 Where there's a school, there's a need to put safety signs high on the priority list. All types of schools require the use of traffic and safety signs for protecting the safety of not only students, but also that of the school staff and visitors.
Dornbos Sign and Safety Inc. has been manufacturing traffic signs for over 50 years. During this time, we've enhanced our production processes to ascertain that our customers get the quality and service they expect in a timely manner. We carry top-notch quality traffic control signs for a wide array of sectors including, but not limited to schools, construction sites and residential neighborhoods.
School Zone Regulations
We all know how hectic driving through a school zone can get during early morning drop-off hours as well as during afternoon dismissal hours. So having the right signs to stray away from chaos is a must to allow traffic to run smoothly on a daily basis.
To begin with, school zone speed limit signs are absolutely necessary under the law, as they notify motorists when to slow down when they are approaching a school zone. At Dornbos Sign and Safety, we carry a large selection of school crossing signs that can help make drivers, students, and pedestrians aware of one another.
Some of the signs we have in stock include:
Busy streets can often times put students in danger since they're generally distracted by the excitement of the school day. That's why pedestrian safety signs and speeding signs are usually necessary to alert drivers of the presence of children.
Parking and Traffic Safety Signs
Along with appropriate traffic signs, an active school atmosphere requires specific parking signs, too. School professors, and even students will find themselves running late if parking spaces are filled with visitors' vehicle, so it's necessary to have the right signs to designate parking spaces.
Such signs are also necessary for having enough space for emergency vehicles. A few of the useful school parking signs you can find at Dornbos Sign and Safety include:
"Staff Parking Only"
"Permit Parking Only"
"Student Parking"
"Emergency Vehicles Only"
Contact Dornbos Sign and Safety
If you're looking for premium school traffic and safety signs, the large and high quality variety found at Dornbos Sign and Safety is sure to fit your needs. You can help out your school crossing guard and keep drivers aware of pedestrians and the school's surroundings.
There's no such thing as having too much protection for school students. For more information about our school signs, call Dornbos Sign and Safety today, and we'll help you choose the right ones.