Posted by Jeffrey Dornbos on 22nd Aug 2016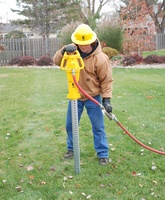 A Public Works Project indicates any development that is funded by the government. When a new school is composed in your community or a sleek bike path is built to weave through the scenic parts of town, they are both considered Public Works Projects.
As projects like these take place, it is important to arrange the proper signs and safety precautions in order to deliver opportune warning messages to drivers and pedestrians. Also, it is essential to make the area as organized as possible so congestion and accidents are averted.
Dornbos Sign & Safety, Inc. supplies every possible sign that your organization may need while completing a Public Works Project. Moreover, we stock the proper installation equipment needed for each sign and sign post that we sell.
Construction Signs Needed for Your Public Works Project
When a bridge is being built or a road is being repaired or expanded, it is imperative that every worker, passerby and driver is kept safe. Dornbos Sign & Safety, Inc. stocks high-quality and durable construction signs for every need, including:
Construction signs should be placed around any construction site. All of the signs that we supply have reflective sheeting so they can be easily spotted in any kind of weather and at nighttime. Our signs are competitively priced and made of the best materials that are sure to last for years to come.
Parking Signs Useful in New Construction Projects
New building projects can be hectic, especially if there is parking for vehicles near the site of construction. If you are working on a Public Works Project where there is parking available in close proximity, then consider purchasing parking signs to show drivers where they can and cannot park.
Dornbos Sign & Safety, Inc. offers "Reserved Parking," cautionary parking, and "No Parking" signs.
Other Signs That Are Useful for Public Works Projects
We supply street name signs in many sizes and also offer our customers the option of creating their own customized street sign.
Dornbos Sign & Safety, Inc. sells school safety signs, including: "SLOW Children Playing," "Pedestrian Crossing," "School Bus Stop Ahead," "Watch For School Bus," "SLOW School Zone" and reduced speed limit signs.
Dornbos Sign & Safety, Inc. Sign Post Installation Equipment
Signs are useful to drivers and pedestrians alike because they help people find their way and keep traffic regulated. Signs must be easy to spot and decipherable. As you can see, Dornbos Sign & Safety, Inc. offers every sign that your organization may need for your Public Works Project—but where to put them?
Dornbos Sign & Safety, Inc. has a large collection of sign post installation equipment, including:
RubberForm Sign Base
Sta-Rite Sign Post
Concrete Sign Base
In addition to equipment, we also sell a number of sign posts, such as: Painted and Galvanized U-Channel Sign Posts, Telespar Square Sign Posts, Flexible Delineator With Soil Anchor, and Pedestal Sign Base.
Looking for Signs, Sign Posts and Equipment For Your Public Works Project?
If you or your organization is in need of sign post installation equipment, or signs and sign posts, then you've found the right place. Dornbos Sign & Safety, Inc. has been supplying high quality signs for decades and we are confident that we can meet your needs. If you would like to view all of the products we sell, visit our website. Do have questions or want to talk to our knowledgeable staff? Give us a call at 800-922-0029 or fill out our online contact form.