Posted by Jeffrey Dornbos on 3rd Dec 2015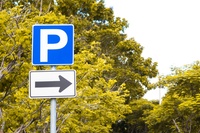 When managing a construction site, safety precautions that should be put into place before starting with a project are among the most important factors to take into consideration. These safety provisions are meant to maintain the protection of construction workers as well as that of passing drivers.
Regardless of the location of a construction site, there will always be a need for installing the necessary street and parking signs to prevent accidents and injury. The following are some necessary signs to have set in every type of new construction setting.
Roadside Construction Signs
Along with barricade boards and lights, traffic drums, and traffic cones, signs that regulate traffic play a major role in safely directing the orientation of vehicles and pedestrians. Here are some of the most regularly used"Roll-Up Men Working" signs:
Pavement Width Transition
At Dornbos Sign and Safety Inc., you can find the above signs and more, along with stacker bases and sign stands. These orange signs can be spotted from a mile away and will keep everyone surrounding a construction site safe. Vehicles can be warned to reduce their speeds and have enough time to change their lanes if they need to.
Some new construction settings tend to use equivalently critical warning signs, as well. For instance, in areas where trucks are constantly entering and exiting the vicinity, a "Truck Crossing" sign is usually needed to alert drivers.
Some of these trucks may contain construction materials that could leave debris, or similarly, there could just be debris left over from the actual construction process. That's when a "Fallen Rocks" sign could easily come in handy.
Bikers can also be warned with a "Slippery When Wet" sign if the surface they will bike over is wet, and a "Rough Road" sign can be placed to caution bikers, too, when needed. Directional arrow signs are also widely used to direct traffic from a distance.
Parking Away
Vehicles don't always have to be moving to possibly cause harm. That's why parking signs are also used in new construction sites. Many times, when a building is in its final phases of construction and some parts of it are open for visitors, parking signs are implemented.These areas around the building are designated as safe for parking while the construction is being finalized.
Other times, a new project may be added to an already existing one and visitors must be warned of the changes. No matter what the case is, the following signs are commonly used in such instances:
"Emergency Vehicles Only"
No Parking 0AM-0PM signs
Safeguard Your Construction Site
Signs with reflective sheeting are not just a legal requisite; they are also a safety necessity. Whether it's dark outside, or the weather conditions are characterized by overcast, reflective sheeting increases visibility.
At Dornbos Sign and Safety, we use 3M reflective sheeting products to ensure that our signs efficiently deliver their tasks of enforcing safety. If you're interested in inquiring about our wide selection of signs that are perfect for new construction sites, contact us today . Let us help you head your projects with safety.