Posted by Jeffrey Dornbos on 28th Apr 2016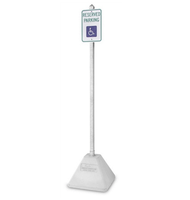 When choosing a sign post base for different uses, there are several elements that will affect the base's efficiency. These facets include the sign base's size, shape and composition. Concrete sign post bases are known to offer a range of benefits as they provide a more potent effect than their plastic counterparts.
Different Categories of Safety
To begin with, concrete sign post bases are a safe alternative to go with for various reasons. Since concrete can't catch on fire, in the event of a fire or accident, a blaze won't be passed on easily. Also, concrete can withstand various weather conditions and it's highly resistant to impacts.
Seeing as how concrete isn't affected by water, it's not prone to getting damaged by rain or flooding. Even during windy conditions, the strength of concrete allows for sturdily holding a sign post in place.
This also promotes the safety of the environment, as the risk of having a sign fly out of place and harm its surroundings will be averted. Concrete sign post bases are also highly difficult to steal due to their heavy weight of 365 lbs.
Durability and Easy Maintenance
Concrete can last for many years and it's naturally easy to maintain, as it's stable for the majority of its lifetime. You don't have to worry about having to consistently clean it or having to replenish the unit due to rust or scratches. Our concrete bases have a protective additive that protects our base's finish from the harsh effects of salt used to melt the snow & ice in parking lots.
The fact that you don't need to use chemical products to treat a concrete sign post base makes it an environmentally friendly option, as well. Concrete's composition is eco-friendly since it's made of naturally occurring materials, including sand and stones. These components make it easy to recycle and reuse concrete, too.
Because concrete is a long lasting material, you can save money by not having to replace a base sooner. Concrete bases are also easy to install and they're aesthetically appealing with the ability to fit in various environments.
Versatility on the Vanguard
At Dornbos Sign and Safety, we not only offer a range of safety signs for a myriad of environments. You'll also find different products to facilitate the installation of your signs. We carry an assortment of sign post bases that come in different materials, but they're all of the highest quality in the industry.
Our Made in America Concrete Sign Base, for example, is an excellent option for reaping the many benefits mentioned above. It's available in natural concrete grey with a customizable sign post height. The superior quality concrete used can withstand snow salt in addition to a number of other elements. A rain plug and an aluminum rain cap come with this base.
Call Dornbos Sign and Safety Today
At Dornbos Sign and Safety, we always deliver our products in a timely manner no matter how large or small an order is. Since concrete bases are extra heavy (365lbs), they must be delivered by truck. For more information about our sign pots bases or other products, contact us today and we'll be happy to help you find what you're looking for.