You've seen them all over, different traffic signs that are designed to keep people safe as they go about their lives. You commonly find specially made signs on school grounds, college campuses, construction zones, city departments, and hospitals. These signs serve to direct people and to warn them of children playing, or reduced speeds. This improves the safety of everyone involved from the motorists to people out walking or cycling.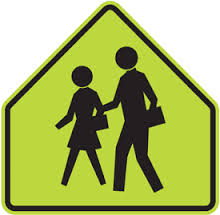 College Campuses. College campuses are busy places almost 24 hours a day, 7 days a week. When you mix young adults with vehicles and time constraints, you have a recipe for disaster. Safety signs can warn people to slow down because there are people out walking to classes or cycling to and from their dorms. Additionally, they can be important ways to direct a lot of people quickly in the event of an emergency.
Construction Zones. Every year, road construction begins in the spring and continues throughout the summer. The specialty signs that the construction companies put up warn drivers of lane closures, reduced speed zones, and detours. This works to protect the construction workers who are out fixing the section or road. They can also guide motorists through detours or around the construction zone.
City Departments. Every city department has a variety of traffic safety signs they utilize around their cities or towns. These signs might include things such as school crossings and children at play signs. They may also have signs for things like utility work, closed roads, or special landmarks they want people to visit. They can customize these signs to stand out and catch people's attention, so they pay attention to them in passing.
County Road Commissions. If you live or work in a more rural area, the county road commissions usually have signs to clearly mark the roads to tell people the speed limits, low shoulders, or warn them about dangerous curves or areas of the road. It isn't uncommon to see these signs on older roads, or in more rural communities where the roads may not get yearly maintenance. Additionally, older roads tend to be full of blind spots and cars may have a difficult time spotting people out walking or bicycling alongside the roads. They also warn bicyclists of blind corners, so they know where it is and isn't safe to stop.
Department of Transportation. The Department of Transportation has dozens of specialized signs they use. If they're operating driving courses for people, they have to have safety signs directing them where to go and where to park. Additionally, they have to teach each of these signs to new drivers, so it's important that the safety signs are clear and easy to understand.
Highway Department. The Highway Department is in charge of putting up the majority of the safety signs along the freeways and highways. They place speed limit change signs, dangerous intersections and corners, and rest area or hospital signs, so people know how to get help if they need it. They design each of these signs to be bold because they understand the motorists only have a few seconds to read it while they're going by.
Each of these departments or places need traffic safety signs for both the motorist and the people who are using the same roadways. Bright, eye-catching signs are a must because people are moving rapidly by them and they only have a few seconds on average to read and comprehend them. They should also be very clear and easy for everyone to understand. These traffic safety signs have the potential to save lives and reduce accidents.