Posted by Jeffrey Dornbos on 14th Jan 2016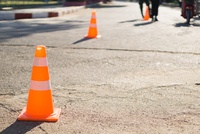 With all the activity that surrounds a school zone, it is easy to understand why safety precautions are necessary. Given all the different areas on and around a school campus, and all the different activities that occur on a school campus on any given day, you likely understand the importance of safety as well as driver and pedestrian awareness. If you are looking for traffic cones and safety cones for your school, you can rely on over 50 years of quality and extensive experience that Dornbos & Sign & Safety, Inc. offers.
Traffic and Safety Cones for Schools: On the Street
School zones are areas that require a number of safety signs and precautions, as you can never be too protective when it comes to the large number of children that are in regular attendance. Drop-off and pick-up times are hectic hours that welcome a mix of buses, cars, and pedestrians on streets, crossing streets, and parking lots.
With everything going on, it is amazing that these busy hours operate so smoothly. Reflective traffic cones are often used in these areas to provide safety to pedestrian students during pick-up and drop-off times. The traffic cones also guide cars and buses by redirecting or blocking off certain areas. Traffic and safety cones prevent traffic jams in school zones and help keep traffic flowing smoothly.
Safety Cones for School: On Campus
Not only are traffic and safety cones useful on the streets; they are always present on school sports fields and campuses. Competitive sports games and PE classes rely on the brightly colored safety cones on their fields to mark certain areas for drills.
And during school games, safety cones are used to create temporary walkways that direct spectators to their proper seating areas while keeping them away from field areas. They're not just for sports, though, as greens and maintenance crews rely on traffic cones to draw attention to spots that should be avoided, such as potholes and turf spots that are in need of repair.
Safety Cones for Schools: Off the Street
Inside school, there are an unlimited number of helpful ways that safety cones are used. Maintenance crews rely on the bright cones to warn of wet floors that could result from leaks or cleaning.
Cones are placed in front of restroom doors to let people know that custodial crews are cleaning inside. During special events such as science fairs and graduations, cones are great for displaying special signs.
These signs are simple to make. A cardboard sign is placed atop a stick and it's then slid into the opening of a safety cone. These are not just useful for signs; they direct foot traffic along corridors, too.
Quality and Safety Go Hand in Hand
Because traffic and safety cones for schools are used almost everyday for different needs, it is expected that they will endure a lot of use and abuse over the course of several years. Your school is probably unlike most businesses in that you'll want to invest in high quality traffic cones, and you will expect those cones to provide years of effective service.
We understand that our customers have high expectations and Dornbos Sign & Safety, Inc. manufacturers only the highest quality traffic cones using premium materials. Call us today to learn more about how Dornbos Sign & Safety can provide your school with traffic and safety cones for all your purposes.