Posted by Jeffrey Dornbos on 28th Jan 2016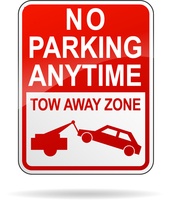 If you think about it, the experience that your customers, employees, and guests have with your business actually begins before they even enter your building. Their experience really begins in your parking lot.
Using proper parking signs in the parking lot of your business can help visitors avoid potential parking frustrations and confusion so that they can enter your business with a positive mindset, and come back again. Find out the many different ways by which using effective parking signs can help your business' storefront.
To Park or Not to Park?
Parking and "No Parking" signs leave no room for question in your visitors' minds as to which spaces are available to them. When drivers enter your business' parking lot, they have just entered after navigating the streets. Once they're in your parking lot, they are navigating the lot, paying attention, and maneuvering around other cars—all while taking quick glances at your building, signage, and door to ensure they have reached the right location and that your business is open.
With the use of parking and "No Parking" signs, drivers are immediately directed and will be relieved that your parking lot signage has quickly caught their attention. Some examples of useful parking lot signs include:
Reserved Parking
Your customers will appreciate spaces solely designated for customers and they'll have no problem returning time and time again to visit your business when they know they won't have a problem looking for a spot to park. Dornbos Sign & Safety will customize parking signs for your business, too.
Special Parking
Treat your visitors and VIPs with the respect and convenience of reserved parking spaces. Special parking signs will allow them to appreciate the benefits they deserve. Examples of special parking signs include:
Reserved Parking For Parents With Infants
Parking For (Compact/Fuel Efficient) Vehicles
Directional Signs
Business parking lots can become busy. The best way to keep traffic moving in the right direction is by displaying directional parking signs. Directional signs keep the traffic in parking lots flowing smoothly and cut down driver frustration for those who are new to visiting your business.
These types of signs will let your visitors know exactly which way they need to drive, and they keep delivery vehicles on time and efficient. Such signs include the following (each can include directional arrows):
Visitor Parking (with a directional arrow)
Customer Parking (with a directional arrow)
Customer Pickup Area
Exit/Enter (with directional arrow)
Deliveries And Trucks (with directional arrows)
Loading Dock (with directional arrows)
Authorized Vehicles Only
Parking Signs To Help Your Business Storefront
Keep your parking lot traffic moving in the right direction with parking signs. Whether your parking area could use standard parking signs or custom parking signs, call Dornbos Sign & Safety today at 1-800-922-0029 and let us help your business discover the many ways to improve your storefront using parking signs.