Posted by Jeffrey Dornbos on 11th Oct 2016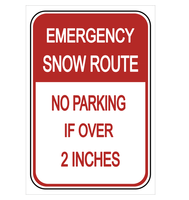 Traffic signs are used to communicate regulatory, warning, guidance, and other information to road users. Road signs must be detectable, readable, and comprehensible to road users from a certain distance. In order to meet particular requirements, road signs vary in size, color, lettering, and retroreflection grade.
Overtime, color portions fade and the retroreflectivity of road signs gradually deteriorates. Although the lifespan of each road sign varies, every road sign must be replaced eventually.
Ensure Required School Zone Signs are in Place
Road signs can be put out of commission for a multitude of reasons: age, vandalism, or car accident—you name it. Whatever the reason, most road signs are necessary. They are in place for a reason and therefore should be repaired or replaced as quickly as possible.
School zone signs put drivers on their toes and make them aware of what may or may not be present: children. Driving speeds are typically reduced in school zones and drivers are often suggested to proceed with extreme caution.
As summer comes to a close, all inept or missing school zone signage should be repaired or replaced before the new school year begins. School zones typically feature fluorescent yellow-green warning signs, such as: 'School Crossing' and 'Children Present'.
Install Necessary Fall and Winter Warning Signs
There are many road signs designed to warn drivers of potentially hazardous conditions involving rain, snow, and ice in the fall and winter months. These warning signs alert drivers to risky road conditions and allow drivers to be more careful in order to avoid accidents.
Before the warmness of summer escapes us, it is a smart idea to make sure all necessary warning signs useful in the fall and winter seasons are in place. Agencies responsible for road sign installation and maintenance in areas that experience severe weather in the fall and winter months should double check warning signs such as: "Caution," "Surface May Be Icy," and "Snow Emergency Route".
Find Your Replacement Signs With Dornbos Sign & Safety, Inc.
If you are a person responsible for installing and maintaining road signs, consider replacing them sooner rather than later. Before the cold-weather months set upon us, visit Dornbos Sign & Safety Inc.'s website to see our wide selection of road signs for every purpose and season.
In the business of manufacturing and distributing a large variety of road signage and equipment, Dornbos Sign & Safety, Inc. supplies signs and accessories of every type, including: signs for school and construction zones, street name signs, surveillance signs, reflective sheeting, and warning signs.
Dornbos Sign & Safety, Inc. carries a selection of high quality reflective sheeting, as well, which preserves the value of road signs and makes them visible during nighttime.
Reach Out to Dornbos Sign & Safety, Inc. Today
Learn more about Dornbos Sign & Safety, Inc . today by visiting our website. Customers with questions or comments can get in touch with our friendly and knowledgeable staff by calling 800-922-0029 or filling out our online contact form .