Posted by Jeffrey Dornbos on 3rd Mar 2016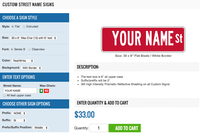 New custom street name signs offer that perfect final touch that your neighborhood needs for an upscale, uniform look. If you are looking for personalized street signs to use as official signs for your streets, Dornbos Sign & Safety offers the highest quality custom street signs.
Top-Notch Quality Custom Street Name Signs
Our custom official street signs at Dornbos Sign & Safety are made with 3M High Intensity Prismatic Reflective Sheeting. The 3M sheeting material we use on our street name signs ensures that your personalized street name sign will be displayed at high intensity, which provides for the best in visibility and safety.
Even after 10 years of use, street signs made with 3M High Intensity Prismatic Reflective Sheeting continue to provide vibrant, high intensity displays. What this also means to you is that your custom street sign will be around for a very long time, so your purchase of Dornbos Sign & Safety street signs is a true long-term investment in your neighborhood.
How to Order Your Custom Street Name Signs from Dornbos
Your choices for ordering custom street name signs from Dornbos include several options. If you're going for the traditional look, choose the flat edge design. For a unique look, take a look at our extruded sign, which is also stronger than the traditional flat design.
We offer several size choices. Our 6-inch tall signs display 4-inch lettering and are available in 4 varying lengths, depending on how many characters you need. The 6-inch street signs are used on streets where the speed limit is 25 mph or less. Our 9-inch tall street name signs display 6 inch lettering and are available in 5 different lengths.
The 9-inch tall custom street name signs are used when better visibility is needed, and when the speed limit on the street is over 25 mph. Our custom street name signs are offered in 6 color choices, with or without a border.
Build your own custom street name sign HERE.
Street Name Sign Posts and Hardware
Visit our website to see our selection of standard street name sign posts and our decorative signholders for a look that is distinctive and unique. Dornbos Sign & Safety also carries a full range of heavy duty hardware to secure your street name signs.
Quality Signs and Quality Service
At Dornbos Sign & Safety, we proudly stand behind our products, and have earned the trust of our many long-term clients over the course of over 50 years in business. We look forward to assisting you on your next personalized street name sign order. Please don't hesitate to contact us today with any questions.