Posted by Jeffrey Dornbos on 7th Jun 2016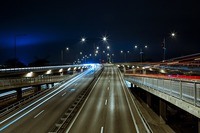 All public roads in the U.S. are required to meet standards that are outlined in the Manual on Uniform Traffic Control Devices (MUTCD). These federally enforced standards are meant to help motorists as well as pedestrians easily recognize street and road signs, and act accordingly.
Dornbos Sign & Safety, Inc. has been a leader in offering MUTCD compliant street and road signs for a number of years. If you're a community manager looking to stay up to date with all the necessary MUTCD changes, Dornbos actually provides a sign chart for purchase that outlines all of the MATCD standards for your reference. We produce a variety of street and road signs for your community's needs using the highest quality materials that will ensure your street signs will last for many years to come.
3M High Intensity Prismatic Materials
When you're looking for street and road signs for your community, you likely are looking for signs that will last for quite some time. At Dornbos Sign & Safety, Inc. all of our signs are made from top-of-the-line 3M High Intensity Prismatic materials, which ensure your signs will last 10+ years, without any type of fading.
In addition to being long lasting, our signs offer drivers and pedestrians added nighttime visibility, thanks to the 3M materials that we use, as well as a protective overlay film.
Factors to Consider When Choosing Street and Road Signs
There are a number of factors to consider when choosing a sign for your community.First off, the signs that you choose should be constructed from the finest materials on the market to ensure they will last, and be able to withstand extreme weather and road conditions.
At Dornbos Safety & Sign, Inc. we've been manufacturing high quality MUTCD compliant street and road signs for more than 60 years.All of our signs are built using rust-free aluminum and are protected with reflective sheeting for added durability and visibility.
We offer a number of different sign options depending on your budget and needs.Whether you're looking for signs for a small neighborhood, or a large municipality, Dornbos has the experience and knowledge of all local and federal sign standards to get the job done.
Made in the USA Street Signs
At Dornbos, we take great pride in the fact that all of our MUTCD Compliant street and road signs are made in the USA.We offer a variety of signs for small neighborhood trails, as well as larger signs that will meet the necessary requirements for community roadways.
If you're unsure of the size or type of sign you need, feel free to reach out to our experienced team who can help you make the right decision. We always offer free shipping on any of our signs and discounts on bulk orders.
Contact Dornbos Sign & Safety, Inc. Today for More Information
If you're ready to place an order for MUTCD compliant street and road signs, don't hesitate to reach out to our dedicated team by phone at 800-922-0029 or through our online contact form.We look forward to doing business with you soon.