Posted by Jeffrey Dornbos on 7th Apr 2016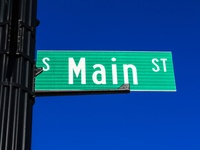 For over 50 years, Dornbos Sign & Safety in Charlotte, Michigan has been a wholesale street and road sign manufacturer providing a variety of traffic safety signs to several government entities. We manufacture and sell a wide range of high quality street signs, both standard and custom, as well as a full supply of street sign hardware and street safety accessories. Our heavy-duty street signs and signposts are made right here in the USA.
Quality Wholesale Government Street Signs
Dornbos Sign & Safety delivers only the highest quality signs and sign hardware for bulk orders. Because we manufacture many of our street signs right here in our facility, our customers get the benefit of avoiding delays and quality issues compared to dealing with middle-man orders. With Dornbos, customizing your wholesale street sign orders is easy, and you can always expect a timely delivery.
Widest Selection of Government Street and Road Signs
Dornbos Sign & Safety offers the widest selection of wholesale government street and road signs in the industry, making us the one-stop shop for all your wholesale street sign and sign hardware needs. In addition to having the option of ordering custom signs created to your specifications, here are some of the more popular government street signs and road signs we provide:
Directional signs and stop signs – "Stop" and "Yield" signs along with arrowed signs and robust traffic cones and barricades.
Government parking signs – "No Parking Fire Lane," "Reserved For Police Cars," "No Parking Police Cars," "Emergency Vehicles Only," "Tow Away Zone," and "Emergency Snow Route No Parking."
Warning signs – "State Law Stop For Pedestrians Within Crosswalk," "Emergency Signal," and "Emergency Signal Stop On Flashing Red."
Custom Wholesale Government Street Signs
The custom street signs at Dornbos Sign & Safety are manufactured using the same high quality metals used in our street signs, which includes 3M High Intensity Prismatic Reflective Sheeting. We offer a variety of colored street signs, along with a choice of sizes to accommodate your specific needs. We proudly offer custom wholesale road signs to national, state, and regional parks, as well as local and federal governments, state museums, and regional municipal bodies.
Wholesale Government Vehicle Decals and Graphics
Our expert design team can work with you to create custom, full color vehicle decals for your entire fleet of vehicles. We are proud to be a major supplier of premium vehicle lettering and graphics to a wide variety of customers around the country. Our custom wholesale vehicle decal and graphics service includes professional application of your graphics, lettering, and wraps, or we can ship them to you if you prefer to apply them yourself.
Order Wholesale Government Street Signs Today
Having worked closely with many organizations including county road commissions, municipalities, universities, and airports, Dornbos Sign & Safety has collaborated with the widest range of traffic safety street signs and related products. Contact us today with your government wholesale street sign questions and we'll do our best to offer the solutions you need at prices that are well within your budget.