Posted by Jeffrey Dornbos on 23rd Oct 2016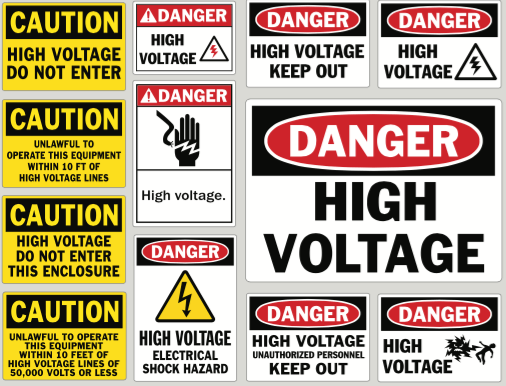 Wholesale Manufacturer of Industrial Safety Decals
In addition to making and distributing high quality road signs, equipment, and traffic control devices, Dornbos Sign & Safety, Inc. is the proud supplier of made to order safety decals and labels.
Typically found on heavy-duty trucks, machinery, electrical equipment, and at any location where a warning message or instructions for proper operation is necessary, there are numerous designs and purposes for safety decals and labels.
Standard and Custom-Made Decals by Dornbos Sign & Safety, Inc.
When you order safety decals from Dornbos Sign & Safety, Inc., we can make whatever decal you need. What Dornbos Sign & Safety, Inc. must receive from you is any pictures and/or wording you want to be incorporated in the design of the decal and a clear overall idea of what you want.
If you want a standard warning or caution decal made, Dornbos Sign & Safety, Inc. can use a template to create the type of decal you need. If you need a custom-made decal designed and created, Dornbos Sign & Safety, Inc. can do that too.
Dornbos Sign & Safety, Inc. uses premium vinyl and 3M protective sheeting to create high quality safety decals for our customers. Decals come with adhesive backs and can be made with reflective material if desired.
3 Types of Safety Decals
The purpose of safety decals is to draw people's attention to possible safety dangers or important information. For example, semi-trucks often feature large decals that say something along the lines of "wide right turns" or "if you can't see my mirrors I can't see you". These decals are generally accompanied by attention-grabbing graphics. When drivers notice and comprehend safety decals on semi-trucks they can be more aware of the situations they are in and take necessary precautions to avoid danger.
There are 3 types of safety decals: Danger, Caution, and Safety Instruction. Danger decals indicate immediate danger; Caution decals warn people against potential hazards; and Safety Instruction decals give people general instructions of how to safely operate machinery or equipment.
Safety Decals Regulated by the Occupational Safety and Health Act (OSHA)
Safety decals that are required to be on certain vehicles, machinery, or equipment are regulated by the OSHA Basically, if a safety decal is required to be somewhere, the OSHA says that the decal must be legible at all times and it must remain in its appropriate location.
Learn More About Safety Decals From Dornbos Sign & Safety, Inc. Today
If you would like to discuss design possibilities with a member of Dornbos Sign & Safety, Inc.'s staff, give us a call today at 800-922-0029. Customers can also contact Dornbos Sign & Safety, Inc. by filling out our online contact form .
Receive a free quote for any order of safety decals by visiting Dornbos Sign & Safety, Inc.'s website or talk to one of our staff members today. You can view examples of safety decals Dornbos Sign & Safety, Inc. has made in the past by looking at our website.