Posted by Jeffrey Dornbos on 10th May 2016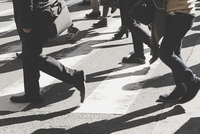 Keeping streets safe goes beyond having properly paved roads and speed bumps in place. Without traffic lights and easily visible safety signs, streets would be chaotic and accident rates would be much higher.
Just as motorists should be aware of other drivers on the road, the nation's various state laws require vehicles to stop for pedestrians crossing in a designated path. These crosswalks must have signs installed to ensure the safety of crossing pedestrians.
High Quality Comes First
Safety certainly always comes first, but when it comes to safety signs, safety could solely be promoted with the use of signs manufactured with superior quality materials and a premium design. That's exactly what you'll find at Dornbos Sign and Safety.
Our large assortment of safety signs and products come from a number of the most renowned brands in the industry that we've partnered with. You can choose from a wide variety of pedestrian crosswalk signs that are durable and suitable for a range of settings.
Since these signs usually take on a bright appearance, drivers can instantly know when exactly to stop or yield for incoming pedestrians. Because our signs are made of the best quality, they're also visible during dark hours, thanks to the highly reflective sheeting they're protected with.
The pedestrian crosswalk signs at Dornbos Sign and Safety are compliant with MUTCD standards. You'll find variations that are resistant to UV light and hydrocarbons with the ability to include custom front and side messaging.
Tier One Signs for Every Road
The visual presence of fluorescent yellow/green pedestrian crosswalk signs with reflective sheeting reaps numerous benefits. At Dornbos Sign and Safety, you'll find signs that are easy to install along with products that facilitate the installation of signs that need it. Our signs can be installed for temporary or permanent use, without having to worry about a show of wear and tear.
The following are some of our most popular pedestrian crosswalk signs:
Made in America State Law Sign with Base
Dornbos Sign and Safety Inc. Pedestrian Crosswalk Sign with Base and Bag
Dornbos Sign and Safety Inc. Omni-Ped Crosswalk Sign
Dicke Safety Products In-Street Pedestrian Crosswalk Signs
Dornbos Sign and Safety Inc. State Law Stop for Pedestrians
For an even more vibrant option, the Dornbos Solar Pedestrian Crosswalk Sign comes with a flash rate of 60-80 times per minute and packs an LED life expectancy of over 100,000 hours. The sturdy aluminum sign also boasts a keyed On/Off switch and a quick replacement for its LED and battery field.
Contact Dornbos Sign and Safety Today
No matter what kind of pedestrian crosswalk sign you need, you'll find it Dornbos Sign and Saefty. We pride ourselves in offering the best signs in the market and delivering them in a timely manner.
For more information about our quality selection, contact Dornbos Sign and Safety today. We'll be happy to assist you in choosing the best signs for your needs and answer any of your questions.