Posted by Jeffrey Dornbos on 21st Jul 2016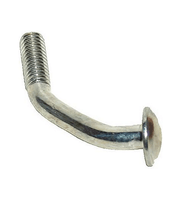 When you purchase a road sign, it is important that you also have the equipment necessary to ensure that the sign is installed safely and effectively. You might buy the highest quality and most durable road sign available, but if it is not mounted or installed properly then it cannot do its job as well as it should.
Dornbos Sign & Safety, Inc. manufactures and sells the best road signs in the business, as well as the finest mounting brackets and installation hardware. Our collection of road signs is vast. And so is our supply of equipment necessary to install them safely.
A Bracket For Every Type of Sign
Road signs can be huge and heavy, especially on the highway. Have you ever noticed how big they can be? Signs must be secured properly for a number of reasons. First of all, nobody wants a giant road sign falling on him or her, or his or her car. It can be a safety hazard for pedestrians and drivers alike when signs are not hung correctly. Secondly, if a road sign is not mounted appropriately, it could be stolen. Or a sign could flip over and then the people that need it for direction are unable to read it like they should.
That's why, for every road sign we sell, there is a proper bracket that we also supply. Dornbos Sign & Safety, Inc. carries the highest quality outdoor sign brackets. They are affordable, effective and can withstand the elements of outside.
Street Name Sign Mounting Brackets
Road signs made for the purpose of displaying street names are probably the most common signs in the world—they're everywhere! We offer a number of brackets meant to secure street name signs, including:
91UFNU180/91UXNU180—mounts street name signs perpendicular to traffic
922F/922X Bracket for 2 3/8"" Round Post—mounts street name signs to a post
91UFOL90/91UXOL90—mounts street name signs to a u-channel post
990F/990X Cross Bracket—used between top and bottom signs to connect street name signs
457F/457X Adjustable Angle Bracket—mounts multiple street name signs at a 45 or 180 degree angle
Jumbo 91UFNU180/91UXNU180 and Cross Brackets made to support large street signs
Wing Brackets—mount street name signs to walls, wood, concrete or posts
There are multiple ways to mount a street name sign. You can mount it to a wall or secure a number of street signs to one post. Dornbos Sign & Safety, Inc. supplies a large amount of brackets so you can mount your street sign however you want to.
We also supply brackets that can mount other types of road signs besides street name signs, including our Z238 Bracket used to secure traffic signs to posts and our 24" Bell Wing Bracket meant to fasten signs to poles.
Installation Hardware Helpful When Mounting Road Signs
Dornbos Sign & Safety, Inc. supplies all of the installation hardware necessary for mounting road signs on multiple surfaces. In addition to brackets, we also supply bolts, spacers and washers. For example, we suggest that our customers purchase nylon spacers to protect the face of road signs from the rust of any bolts that would otherwise touch the sign. Take a look at our website to see all that we offer in road signage and installation equipment.
Contact Dornbos Sign & Safety, Inc. for Your Sign Mounting Needs
Whatever you're looking for, Dornbos Sign & Safety, Inc. has it. If you have questions or would like to talk to our experienced staff, you can call us at 800-922-0029 or fill out our online contact form .