Posted by Jeffrey Dornbos on 17th Mar 2016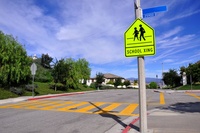 Wholesale School Zone Traffic Sign Distributor
Keeping students, school visitors, and staff safe encompasses the need for various tools, including regulatory and warning signs on school premises. In addition to protecting school attendees around classrooms, hallways, athletic fields, and so forth, school zones must also have the right signs in place to regulate traffic.
Essential School Zone Signs
As drivers and pedestrians are the most common passersby of any educational institution, traffic control signs are needed to warn each of what to expect. Drivers should know when to lower their speed ahead of time and when to stop before reaching a pedestrian crosswalk.
The following signs are some of the fundamental ones necessary for keeping everyone cautious of their surroundings:
At Dornbos Sign and Safety Inc., you can find all of the above signs among many other quality signs manufactured to meet the needs of any school. School crossing guards need the backup to efficiently guide both drivers and pedestrians towards safe-to-cross areas.
Quality Signs that Last
As schools are always busy, it's necessary to provide everyone around the school with the right guidance to keep up with the fast-paced environment. The signs at Dornbos Sign and Safety are guarded with reflective sheeting that not only adds an extra layer of protection, but also makes the signs more easily visible in an array of hours and weather conditions.
For instance, during darker winter hours and times of overcast or heavy rain, signs can be more difficult to see. However, options with solar lights and signs covered in reflective sheeting are visible from a distance when a vehicle's headlights hit them. With such signs, competing lights won't phase vehicles.
Many of our school warning signs come in fluorescent yellow shades and can be recognized instantly. This helps drivers avoid running a stop sign or driving at unpermitted speeds. We offer signs of different grades including High Intensity Prismatic, Diamond Reflective Grade, and Engineer Grade Prismatic Sheeting.
Our school signs are made of rust-free, heavy-duty aluminum for a durable build that can last up to 10 years or more depending on the reflective sheeting grade. They are resistant to cracking, fading and peeling, and can be mounted easily.
For All Your School Signage Needs
At Dornbos Sign and Safety, we've partnered with several of the industry's leading brands to ensure that our customers get a diversified quality assortment to choose from. We also have different types of sign posts and mounting accessories/tools in stock to simplify the installation process.
Dornbos Sign and Safety has been in the sign manufacturing business for more than 50 years. Our experience has advanced our expertise in choosing the best quality traffic control signs on the market and offering them at competitive prices.
All of our signs are delivered in a timely manner after undergoing our quality control processes to assure that they are delivered in top-notch condition. For more information about how to order wholesale school zone traffic signs, contact Dornbos Sign and Safety today . We'll be more than happy to help you find what you're looking for.