Posted by Jeffrey Dornbos on 5th May 2016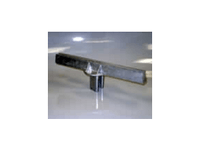 Traffic and street signs are prominent on each route of your daily commute, whether you're traveling to and from work, school, home and so forth. Each sign is designed to provide important information to drivers and pedestrians in a timely fashion.
That's why all safety signs should be durable enough to withstand the elements as they are left out for months, if not years, before being replaced. Among the facets that impact the strength of a sign are the mounting brackets and hardware that are used to keep the signs upright and held together.
A sign is only as strong and effective as the hardware that holds it together. That's why the hardware accessories of any sign need to be just as durable as the signs themselves in order to maintain efficiency.
By being accompanied by strong hardware, signs have a better chance of standing strong for an extended period of time. Dornbos Sign & Safety Inc. specializes in providing all types of affordable and effective mounting brackets as well as sign hardware so that you can be confident that your signs will be fully functional for many years to come.
Securing Your Outdoor Signage
The brackets and hardware that you choose to affix your signs is easily one of the most important functional components of any sign. Dornbos Sign & Safety Inc. understands the importance of sign hardware and stocks a wide variety of heavy duty brackets, hardware and accessories to meet your needs. We carry all types of hardware for stop and regulatory street signs, parking signs, warning signs, real estate signs, school signs, neighborhood watch signs, decorative signs, as well as the hardware needed for signpost and sign base installation.
In addition to offering a wide selection of hardware and accessories, our experienced team of professionals can also help you if you have questions about what type of sign hardware and mounting brackets you will need for the signs that you have, or the ones you are purchasing. The wide variety of safety signs and hardware at Dornbos Sign and Safety allow you to find what you're looking for in one place.
Outdoor Sign Mounting and Bracket Pricing
Dornbos Sign & Safety can handle large or small orders. We make sure that our quality items are priced reasonably to help suit a myriad of budgets. If you have questions about any of our safety signs, hardware or accessories or would like to place a large quantity order, call us today at 1-800-922-0029.
Depending on the size of your order, you also may qualify for discounted or wholesale pricing! The staff at Dornbos Sign & Safety is knowledgeable, experienced and customer-friendly. We can help you find the best possible sign and mounting hardware to meet your specific needs.
We have many testimonials from prior customers that have been pleased with their experience. Our team works hard to meet your needs and would be honored to earn your business, as we highly value and appreciate your return business.