Posted by Jeffrey Dornbos on 9th Jun 2016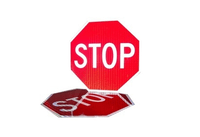 Stop signs are among the top safety sign essentials of any street or neighborhood. They help keep both pedestrians and motorists safe by cautioning drivers when their vehicles should come to a halt.
For the sake of differentiation with other signs and to be spotted with ease, all stop signs are red, and are permitted to be installed in particular sizes in accordance with a state's law. Since stop signs take on an octagonal shape, they're easy to decipher from various angles.
Drivers that see a stop sign from the backside will know that the cars ahead must stop when they reach it. Their vibrant color makes it easy to identify them from a distance and during dark hours so they won't be confused with other traffic and safety signs.
Quality Without Boundaries
The majority of private properties require the use of stop signs namely to keep everything from intersections to pull-over areas secure. At Dornbos Sign and Safety, we only carry the highest quality safety signs and products in the industry to assure a long lasting and effective build.
We've partnered with various prominent names in the market to ensure a large assortment that can accommodate numerous preferences. It's our mission to build long-standing partnerships with our customers by ensuring the ultimate customer care and by offering top-notch product selections.
All of our regulatory signs are protected by 3M High Intensity prismatic materials that are created to last for at least a decade without any signs of fading. The reflective sheeting also enhances visibility in extreme weather conditions and during various hours when lighting might be limited.
The aluminum stop signs at Dornbos Sign and Safety are all heavy duty and rust-resistant. Since all of our signs are made in the United States, you can expect to receive your order in a timely manner.
Same Sign, Different Brands
As mentioned previously, in addition to producing our own signs, Dornbos Sign and Safety works with different manufacturers. Here are some of our most popular stop signs:
Dornbos Sign and Safety 24" Engineer Grade Prismatic Stop Sign- This sign is made with .080 rust-free aluminum for a durable build. You have the option to include the 3M Premium Protective Overlay Film to protect your sign from UV rays and graffiti.
Made In America Stop Sign Face – Not only is this sign pressure sensitive, but it's also available in three sizes. Additionally, you can choose from three different grades of reflective sheeting: Engineer Grade Prismatic, High Intensity Prismatic, and Diamond Grade.
3M Reflective Sheeting Stop Sign – Choose between the High Intensity Prismatic and the Diamond Grade Reflective sheeting in addition to 4 different size options. The High Intensity Prismatic sheeting comes with free shipping.
Contact Dornbos Sign and Safety for Your Stop Signs
Install the best quality stop signs in your neighborhood. If you have any questions about our products and which stop sign can best suit your needs, call Dornbos Sign and Safety today , and we'll be happy to answer any of your questions.