Posted by Jeffrey Dornbos on 12th Feb 2016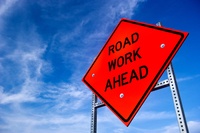 Wholesale Street and Parking Signs for Public Projects
Public projects can take on a range of environments. Whether a plan involves building a new bridge, school, apartment building or parkway, there is always a need for having the right safety signs in place to prevent accidents or any hazards from taking effect.
Construction Work Signs
To keep construction workers and passersby safe, men working signs should be installed around a construction site. It's crucial to place these signs in the right locations so that motorists and pedestrians can be aware of what to expect ahead of time.
Generally, these signs flaunt an extra bright orange façade to be visible under any weather condition or hour. When these signs are equipped with reflective sheeting, they are even more likely to be visible during darker hours and times of overcast weather. You can find such signs at Dornbos Sign and Safety.
We carry an array of quality warning signs, specially made for areas of construction. Our signs are priced competitively and are easily noticeable in any location. Some of our most popular roll-up men working signs include:
Along with street signs, you can also find cones, barricades and sign stands at Dornbos Sign and Safety. These tools not only help direct traffic; they can also be transported easily, and they have a long-lasting composition.
Parking Essentials
Among other factors, public projects vary in size and contractual terms, which means that sometimes a project could be ready to welcome visitors, drivers or residents in some of its sections. That's why during and after the completion of a project, the right parking signs should be installed.
There might be areas where certain vehicles are prohibited from parking in to make way for construction-related vehicles and equipment. That's where the restricted parking sign assortment from Dornbos Sign and Safety can come in handy. You can designate reserved parking and even set cautionary parking signs that warn of a potential danger near a particular area.
Similarly, upon the end of a project, parking signs are necessary to direct drivers to where they are permitted to park and which way they should take. Dornbos Sign and Safety offers an array of parking sign options that can help prevent accidents. They can be used everywhere from sidewalks to parking lots and garages near a variety of settings.
For the Streets
Street name signs are also necessary for new buildings or community projects. This is especially the case for people trying to go back to their desired route after attempting to find their way around a new establishment (small or large).
At Dornbos Sign and Safety, you can find customized street signs for your neighborhood. Drivers can easily locate the route to their chosen destination, which makes it much easier during times of an emergency. Our high quality extruded aluminum signs are made to be more visible to drivers.
Contact Dornbos Sign and Safety
Dornbos Sign and Safety has a varied assortment that can meet all of your signage and corresponding traffic control equipment needs. Call us today for more information on our products and how we can enhance any public project.