Posted by Jeffrey Dornbos on 15th Dec 2015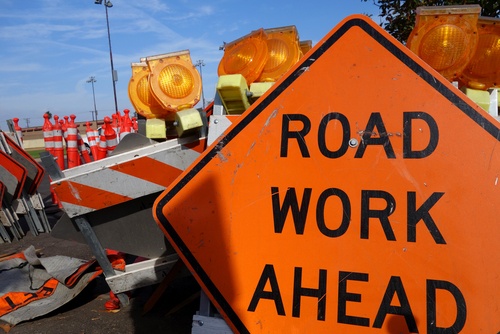 When you think of safety at construction sites, traffic signs are perhaps the first equipment to come to mind. Without traffic signs, the wellbeing of drivers and construction workers alike would be put in jeopardy.
At Dornbos Sign and Safety, we take safety seriously, which is why our signs are made of the highest quality materials to ascertain a high level of durability. We distribute a wide range of safety products that can easily be used in construction sites of varying natures.
Safety at All Times
Our selection of traffic signs is matched with products that help enforce security in various environments. In order to fully complete an effective construction plan, you should have the proper tools available to warn drivers of a construction project from a decent distance.
Sure, traffic cones and barricades are important and highly efficient modes of protection, but there's a risk of a driver possibly running into them if they're not warned ahead of time. This is especially the case for motorists driving at high speeds on a highway.
Our "Roll-up Men Working" signs are perhaps among the most useful ones for making a construction area a safe one. They're characterized by their bright colors that can be spotted from miles away and their convenient installation. Here are some of our most popular signs:
The reflective sheeting used on these signs helps make them visible in even the toughest weather conditions including dark hours. Sometimes, the headlights of vehicles traveling in opposite directions at night can hinder the vision of drivers. With these signs, the effect of competing lights can be subdued and vehicles can remain aware of their respective lanes.
Practical Warning Signs
You can also find quality sign stands and bases at Dornbos Sign and Safety, providing you with the freedom to install the signs exactly where they're needed. These stands include heavy-duty tripods, as well, and a "Twin Flex" assortment to properly hold construction signs in place.
In addition, at Dornbos Sign and Safety, we have several warning and regulatory signs that are extra useful for areas where a new urban plan may be initiated or perhaps an existing system is being revamped. The following are some useful signs:
Get in Touch with Dornbos Sign and Safety
Dornbos Sign and Safety, Inc. has never turned down its promise of delivering top-notch products right when our customers need them. No work environment is completely secure without having the right tools on-hand; construction sites are no exception.
If you have any questions about our wholesale traffic signs for construction zones, don't hesitate to give us a call today, and we'll be glad to provide with the details you need.