Posted by Jeffrey Dornbos on 17th Dec 2015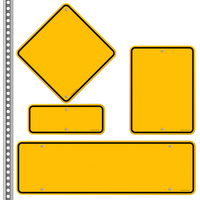 When you look at the quality of a street sign, you're also most likely to notice the quality of the sign post. Does it rust easily over time? How stable is it? Having a high quality sign post installed is just as important as installing a durable sign.
At Dornbos Sign and Safety, Inc., we have it all. We not only carry a wide selection of signs with long lifespans, we also have painted and galvanized sign posts that are FHWA & NCHRP-350 crash worthy approved. Your signs will be standing strong all the time; even in harsh weather conditions.
Our qualified team of professionals is dedicated to providing our customers with optimal service. Dornbos's products are shipped with extra care to arrive to our customers in excellent condition and in a timely manner.
A Large Array of Options
U-channel sign posts have a predominantly heavy composition, in order to maintain sturdiness. At Dornbos Sign and Safety, sign posts are sold by length and pound for foot. Orders of larger quantities receive special pricing.
Our sign posts come with pre-drilled holes that are meant to align with the pre-drilled holes on the signs they are to hold up. The designs of our Made In America sign posts can meet the unique preferences of each one of our customers.
Perhaps you'd like your sign post to blend in with a green background. The good news is,you can have that since some of our u-channel sign posts come in green variations. The protective coverings on our sign postsprovide them with the strength to endure tough weather conditions.
They are ideal for mounting traffic and parking signs, which you can also find in abundance at Dornbos Sign and Safety. Here are some of our most popular u-channel sign posts:
Additionally, the Chicago Heights Safety-Splice™ Signpost System for u-channel posts can be found among our variety of sign post products. Boasting an FHWA approved Base-Break-Away system, it's easy to install and can attend to any size channel up to and including 4-lb. posts.
Protection and Efficiency
You must have the necessary tools to safely and efficiently install your u-channel sign posts. Dornbos Sign and Safety also carries a range of products that can help make the sign post installation process a breeze.
From a steel hardware kit to a drive cap and a lightweight "post driver," we have everything you need to mount your u-channel signposts with rigidity. With the right instruments of construction, you can have your sign post(s) up in no time.
Contact Dornbos Sign and Safety
Dornbos Sign and Safety only carries the best products in the industry. We look at our clients as partners and are interested in maintaining long-term business relationships.
Our selection of quality u-channel sign posts, and other varied traffic control safety products, are crafted with superior materials, which allow for a longer lifespan. You can purchase your products at competitive prices and receive them in a timely manner.
Let us help you find the u-channel sign post you're looking for. Call us today for more information about our merchandises.