Posted by Kelsey Mansel on 16th Mar 2021
A Brief History of School Zone Signs

The first Manual on Uniform Traffic Control Devices, or MUTCD, was published in 1935 and was broken up into four parts: Signs, Markings, Signals, and Islands. Specific guidelines on School Zone signs were not included until the third edition of the MUTCD in 1948 which designated one "School" sign with a black legend and yellow background. According to this edition "School" signs were to be taken down at the end of each school year and did not have to be reflectorized.

It wasn't until the fifth edition of the MUTCD, published in 1971, that we saw the first use of the pedestrian crossing symbol we're familiar with today. The pentagon shaped crossing signs entered popular use after the sixth edition was published in 1978. Since school zone signs were only needed during the day it was not required for them to be reflective. The black letters on a yellow background combination were still thought to be the most effective method for warning drivers.

Now that we have a brief understanding of school signs and the symbols we use today—where did we get the yellow-green color?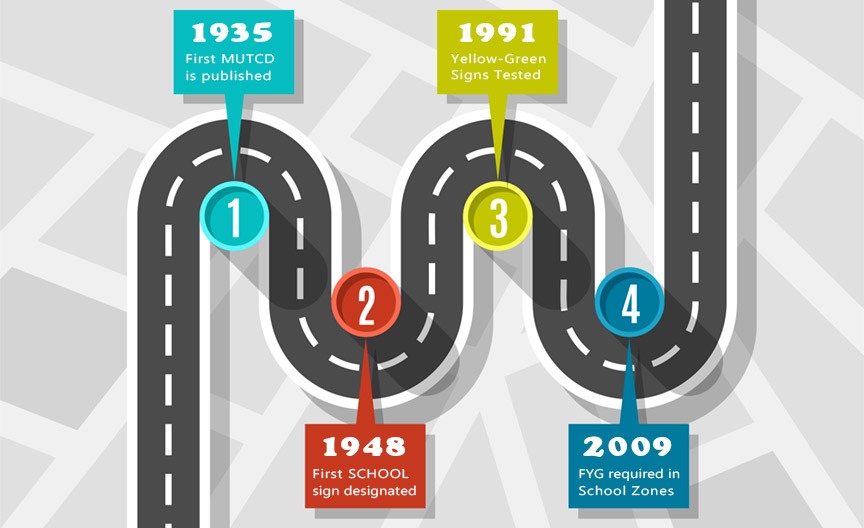 Yellow-Green Enters the Scene
In the 1990's the sign industry went through a massive transition as more durable, fluorescent forms of reflective sheeting were created. It was found that fluorescent reflective material was not only more durable than retroreflective, but it could be viewed at further distances and provided higher levels of reflectivity during day and night. Fluorescent Yellow-Green was first used in a series of studies in the early 90s which looked at the effectiveness of the color and it's use for Pedestrian, School, and Bicycle crossing signs. After a total of 57 jurisdictions were evaluated it was found that Yellow-Green signs reduced motorist/pedestrian related accidents.

MUTCD Requires Yellow-Green for School Zones
In 1998 the first amendment was published to the 1988 MUTCD which outlined Yellow-Green as an optional color for Bicycle, Pedestrian, and other School Zone related signs. It wasn't until the most recent version of the MUTCD, 2009, that the Fluorescent Yellow-Green color was officially required for all school zone warning signs. This version of the manual allows for Fluorescent Yellow-Green to be used as an option for non-school related bicycle and pedestrian signs however some state and local municipalities restrict the use to school zones only.

Types of Yellow-Green Signs
The image below includes a variety of Fluorescent Yellow-Green signs outlined in the MUTCD. The Manual recommends 36" x 36" signs for conventional roads but will allow a minimum size of 30" x 30" for Diamond and Pentagon shaped signs. The 2009 edition of the MUTCD requires all School Zone signs are Yellow-Green and must be retroreflectorized or illuminated. The manual also allows for Flashing LED School Zone signs for areas where added visibility is needed.

Upgrade Your School Zone with Dornbos Sign
Does your school zone still have outdated black and yellow warning signs? It may be time to upgrade your signs to stay in compliance with the most updated version of the MUTCD. Fluorescent Yellow-Green signs are excellent way to improve pedestrian and motorist safety by increasing awareness and reducing accidents. Here at Dornbos Sign & Safety, Inc. we have been manufacturing traffic signs for over 60 years using materials made in the USA. Our team works hard to keep up-to-date with the latest rules and regulations to make sure your signs meet or exceed current safety standards.

Customer satisfaction is our number one priority so we have worked hard to provide an extensive line of School Zone Safety Signs. Can't find a sign you're looking for? No problem! We manufacture all of our traffic signs right here at our sign shop in Michigan using durable .080 aluminum and premium 3M Diamond Grade Yellow-Green reflective. Our site offers multiple options for creating your own custom signage including your very own Custom School Zone Signs. If you have any questions please don't hesitate to give us a call at 1-800-922-0029, emailing info@dornbossign.com, or filling out our online form.