Posted by Jeffrey Dornbos on 11th Mar 2016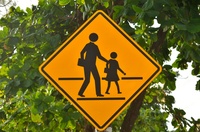 Because there are federal and state regulations that specify particular requirements of traffic signs, ordering your traffic safety signs are certainly not an area where cutting corners makes sense. You'll want to ensure that you will have confidence that the company you buy traffic signs from can understand and meet all the necessary federal and state specifications.
You'll also appreciate that the materials used to manufacture your road safety signs are the highest quality available to withstand all sorts of road conditions for many years to come. There's really only one way to ensure that you've purchased the highest quality signs that conform to all the national and state standards, and that is by buying signs that are made in the USA.
Traffic Signs Made in the USA
When you order traffic signs from Dornbos Sign & Safety, you can trust that the products you are ordering were manufactured right here in the USA using the best quality materials. We know that our customers have high expectations for their traffic safety products, and we never disappoint.
Our regulatory traffic signs are manufactured in Michigan, using 3M High Intensity Prismatic materials. They offer the best in visibility during nights and extreme weather, and are built to avoid fading for at least 10 years.
Best Quality Signposts Made in the USA
At Dornbos Sign & Safety, we not only put great effort into the manufacturing of our top quality road signs and traffic safety products, we also concentrate our quality efforts when it comes to signposts and traffic sign brackets. Our signposts are painted and galvanized and are FHWA and NCHRP-350 crashworthy approved.
This means, you won't soon be back out on the roads replacing our signposts and brackets because of extreme weather or minor bumps from vehicles. Our Made in the USA signposts and brackets are made to stand the tests of traffic and weather.
Our Customer Service Can't Be Beat
Dornbos Sign & Safety is proud of our over 50 years of business and manufacturing in the USA. When you place an order with us, you can rest assured knowing that our customer service is a quick phone call away. Our dedicated staff is always happy to assist our customers during and after the ordering process.
Order Your Traffic Made in the USA Signs Today
Over the course of over 50 years, Dornbos Sign & Safety has established and maintained many long standing relationships with a variety of individuals and companies in industries that range from builders and property managers, to schools and cities. We've worked hard to maintain our business relationships by offering top-notch customer service and only the highest quality manufactured products.
Our customers know that when they come to Dornbos Sign & Safety for their road safety signs, they'll receive the best quality traffic signs and traffic control items that are made in the USA and will last them for the long term. Contact Dornbos Sign & Safety today to place an order, or if you have any questions.