Posted by Jeffrey Dornbos on 19th Jul 2016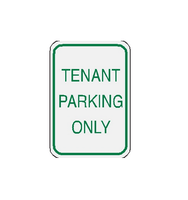 There are a million tenant parking lots across the country. If you live in an apartment complex, then you probably have your own parking spot or designated area to keep your car. Unfortunately, every driver has had his or her fair share of hardship when it comes to finding a parking spot. Sometimes it can be difficult to know where or where not you are allowed to leave your car, especially if you're in an area you unfamiliar with. However, what about when people park in spaces they are definitely not supposed to park in? Have you ever been the victim of someone taking your designated parking spot?
Dornbos Sign & Safety, Inc. supplies a large collection of parking signs perfect for your tenant parking lot. Read on to find out the 6 best parking signs for tenant parking spaces and learn why your apartment complex should strongly consider purchasing them today.
1.Resident Only Parking Signs
The #1 sign that any apartment complex should have is one that gets across this message: "only residents are allowed to park here!" That way, when people that are not residents park in your apartment building's lot, they have no excuse—the sign is right there! Dornbos Sign & Safety, Inc. sells a number of parking signs for " Resident Parking Only," including:
" Resident Parking Only Violators Will Be Towed"
"Assigned Parking Only Violators Will Be Towed"
"Private Road Residents Only"
2.Reserved Parking For Parents, Handicap or Expectant Mothers
It's a great idea to have parking spaces near the door reserved for specific people, such as: expectant mothers, parents with small children, the handicapped or security guards and policemen. Basically anyone who should have easy access to the building entrance should have a reserved parking space close to the door. Dornbos Sign & Safety, Inc. sells a number of signs for specifically reserved parking spaces. Such signs include:
" Reserved Parking Van Accessible"—for the handicapped
"No Parking This Space Reserved Towing Enforced 24 Hours/Day"
"Reserved for Police Cars"
"Reserved for Security"
" Reserved for Expectant Mothers"
3.Motorcycle Parking Only Signs
There is always the possibility that someone living in an apartment complex will own a motorcycle or scooter. And they shouldn't be excluded from parking spaces in the tenant lot! That's why we offer " Motorcycle Only" parking signs perfect for this very reason.
4.Visitor/Guest Parking
It's not required for tenant parking lots to include specified parking spaces for visitors and guests, but it is certainly a nice gesture. Dornbos Sign & Safety, Inc. sells parking signs for visitors and guests, including signs that say:
5.No Parking Anytime, On Grass or During These Hours
There are always certain areas of parking lots that absolutely cannot be parked in. When this is the case, "No Parking" signs come in handy. We supply signs for this very purpose, such as:
" No Parking"
" No Parking Private Property"
"No Parking 0:00AM TO 0:00PM"
"No Parking Anytime"
6.Customize Your Sign
If you are in need of a sign that is not listed on our website, talk to us. We are capable of making customized signs and would enjoy making a sign that fits your exact needs.
Contact Dornbos Sign & Safety, Inc. Today!
There are many signs that can be useful in an apartment building's tenant parking lot. We hope that you've found this list useful and are considering what signs your parking lot might be in need of. If you would like to see all of the parking signs we supply, take a look at our website. Don't hesitate to contact us if you have any questions. You can reach our knowledgeable staff by calling 800-922-0029 or by filling out our online contact form.