Posted by JD on 20th Aug 2019
Square Sign Posts Bases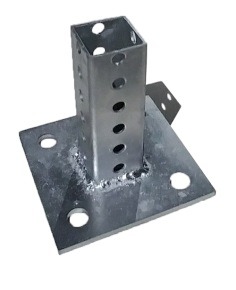 If you are in need of a permanent sign base for a square Telespar or Unistrut sign posts look no further than the Swifty Square Sign Post Base. This sturdy sign post base works great on concrete or asphalt surfaces. Made of heavy duty 12 Gauge galvanized square steel welded to a thick ½" x 6" x 6" steel base. Upright post have 4 – 7/16" holes on all four sides. The bases have 4 – ¾" holes in each corner.
Available from;
6" Tall Galvanized Post - 6" x 6" Painted Silver Base
1.75" x 1.75" Base works with 1.50" x 1.50" Post
2.00" x 2.00" Base works with 1.75" x 1.75" Post
2.25" x 2.25" Base works with 2.00" x 2.00" Post
Green or Galvanized.
Green U-Channel Sign Post Base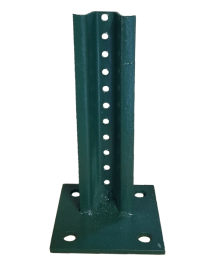 Top of Form
Curr
Our U-Channel Sign Post Bases are a great option for your neighborhood
or municipality! Use with our 2lb U-Channel posts and breakaway hardware
for a breakaway system. An excellent time saver: once hit, sign post base
remains fixed to the concrete while top post and hardware are easily replaced.
Product Features
3/8" Diameter Holes on 1.0" Centers
Works with 2lb/ft U-Channel Sign Posts
12" Tall Green Baked Enamel U-Channel Post
1/4" x 6" x 6" Painted Green Steel Base
Green or Galvanized.